The S&P 500 notched its biggest weekly percentage decline last week since September, with all losses notably coming from the day session.
The S&P 500 — tracked by the SPDR S&P 500 ETF Trust (SPY A) — lost 4.6% last week. By market close Friday, SPY climbed a modest 0.1% in night trading during the week, partially offsetting SPY's 4.7% decline during the day sessions.
Last week demonstrated the power of the night effect, a persistent phenomenon whereby overnight markets have historically outperformed the daytime trading session on a risk-adjusted basis.
"What we see in the night is this relatively stable upward drift over time, but it's the day that's the volatile session, that sometimes drags it back," NightShares CEO Bruce Lavine said during a recent webcast.
The historically lower volatility of the overnight session may lead to better up/down capture ratios, allowing investors to more comfortably maintain their target equity exposure through periods of market volatility.
Between last Monday and Friday, 75% of buy-and-hold sessions were in the tails (<-1.00 or >1.00), compared to the historical average of 26% of hold sessions in the tails. The day session also had 75% tail days, compared to 19% of day sessions historically being in the tails. While historically 9% of night sessions are in the tails, last week had no sessions in the tails, according to data from NightShares.
Historically, the day session has had an average of 19%, more left-tail days than right-tail days.
---
Content continues below advertisement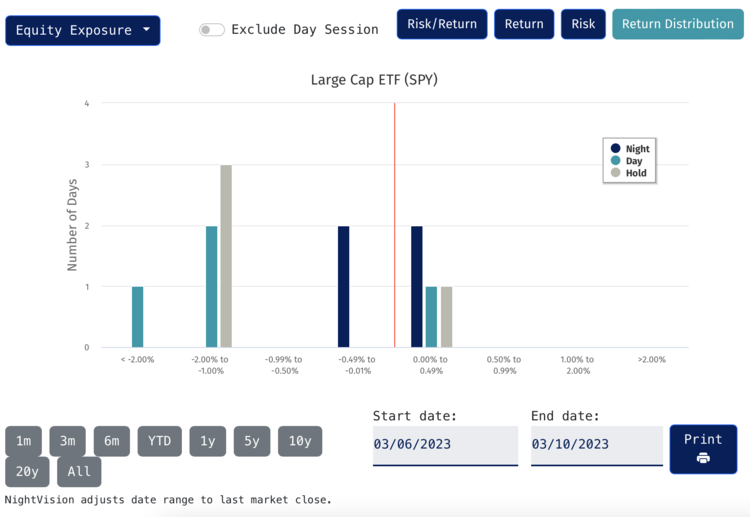 NightShares launched two ETFs last year providing exposure to the night session of large-cap stocks. The NightShares 500 ETF (NSPY ) offers focused exposure to the night performance of 500 large-cap U.S. companies.
For investors looking to maintain day exposure but overweight the night, the NightShares 500 1x/1.5x ETF (NSPL B) tilts toward the night, providing investment results, before fees and expenses, that correspond to 100% of the performance of a portfolio of 500 large-cap U.S. companies during the day and 150% of the portfolio performance at night.
For more news, information, and analysis, visit the Night Effect Channel.