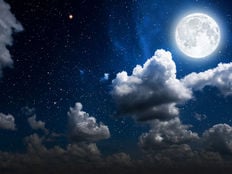 Volatility in markets will remain a key theme in 2023, particularly as recent U.S. economic data has led investors to anticipate interest rates will likely stay higher for longer.
Risk-adjusted returns are important characteristics to consider as advisors make allocation decisions for clients, with majority of advisors using Sharpe ratios assess risk versus reward.
Over 75% of advisors recently polled said they are using Sharpe ratios of similar risk metrics in evaluating investments, according to "How the Night Effect Can Benefit Your Portfolio."
Tilting toward the night is an important strategy to consider as advisors look for ways to strengthen risk-adjusted returns in client portfolios. The night effect is a persistent phenomenon whereby overnight markets have historically outperformed the daytime trading session on a risk-adjusted basis.
The historically lower volatility of the overnight session may lead to better up/down capture ratios, allowing investors to more comfortably maintain their target equity exposure through periods of market volatility.
The (SPY A) Sharpe ratio is 0.54 for holding the fund over a 20 year period (2003 through 2022). Meanwhile, during the same period, the night session Sharpe ratio is 0.62, while the day session Sharpe ratio is just 0.16.
During the same 20-year period, the power of the night effect is even more pronounced among small caps. The (IWM A-) Sharpe ratio is 0.46 for holding the ETF between 2003 and 2022. The night session Sharpe ratio is 0.90, while the day session Sharpe ratio is -0.08.
The day session Sharpe ratio is negative as the session's returns over the 20-year period have been negative, meaning over 100% of the fund's returns have come at night.
NightShares launched three ETFs in 2022 that are designed for investors to efficiently capture the night effect.
The (NSPY ) offers exposure to the night performance of 500 large-cap U.S. companies, while the (NIWM ) provides exposure to the night performance of 2000 small-cap U.S. companies.
The (NSPL B) offers exposure to both night and day sessions: providing investment results, before fees and expenses, that correspond to 100% of the performance of a portfolio of 500 large-cap U.S. companies during the day and 150% of the portfolio performance at night.
For more news, information, and analysis, visit the Night Effect Channel.