The S&P 500 is on track to end the month nominally in the black, but investors who avoided the day have been rewarded with better returns and lower volatility.
U.S. large caps, as measured by the (SPY A), climbed 1.1% between May 1 and May 30. The night session contributed 2.4% of performance while the day session declined 1.2%, clawing back some gains for buy-and-hold investors.
"Many investors think the S&P 500 was down in May but they need to look beyond the traditional ETF products. Incorporating after hours trading would add value," Todd Rosenbluth, head of research at VettaFi said.
See more: How Capturing the Night Effect With NSPL Can Enhance Portfolios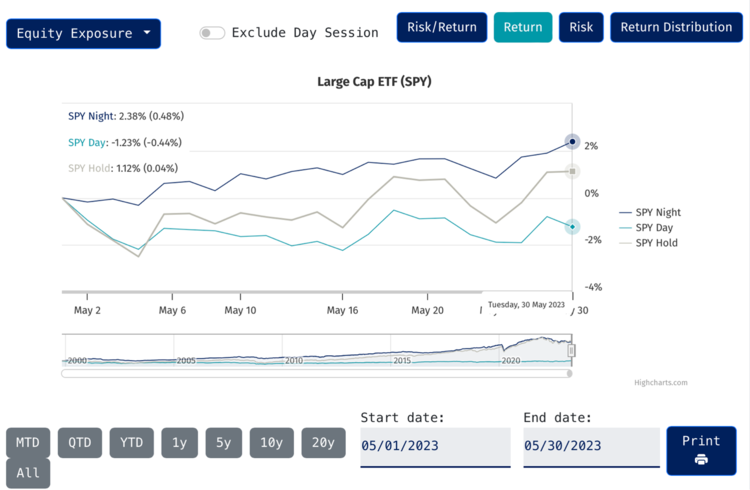 ETFs for Investing in the Night
Investors can get exposure to the night trading session with the (NSPY ) and the (NSPL B). NSPL and NSPY are designed to capture the night effect. The night effect is a phenomenon whereby overnight markets have historically outperformed the daytime session on a risk-adjusted basis. 
The night effect is captured by separating out the risk and return differences between day and overnight trading sessions. Over 20 years of research has shown investors frequently benefit from avoiding the volatile day sessions. Investors instead can benefit from investing in the overnight trading session.
 See more: How to Use NightShares ETFs in Portfolios
NSPY offers exposure to the night performance of the S&P 500, while NSPL captures the night effect without foregoing exposure to daytime trading. NSPL effectively tilts toward the night.
NSPL seeks to provide returns that correspond to 100% of the performance of a portfolio of 500 large-cap U.S. companies (comparable to the S&P 500) during the day and 150% of the portfolio performance at night.
For more news, information, and analysis, visit the Night Effect Channel.
---
Content continues below advertisement