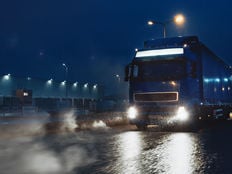 The overnight session's positive performance in May helped offset losses during the day in large- and small-cap stocks.
The overnight trading session contributed all of large and small caps positive performance last month. Advisors can add value to client portfolios by incorporating after hours trading. Products like the then (NSPY ), the (NSPL B), and the (NIWM) are designed to efficiently capture the night effect.
The night effect is a persistent phenomenon whereby overnight markets have historically outperformed the daytime trading session on a risk-adjusted basis. The overnight trading session has delivered much of U.S. large- and small-cap equities' returns with much lower volatility than the day session over the past 20 years.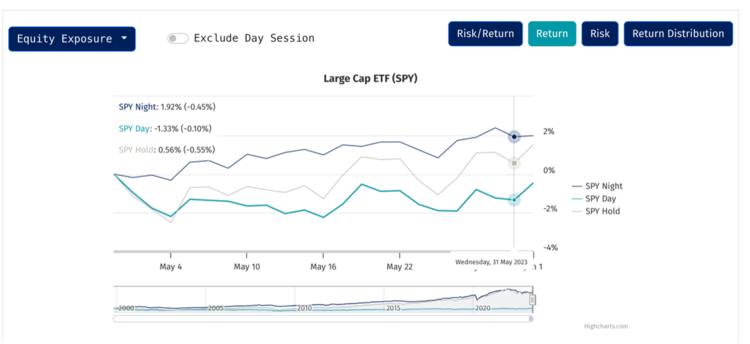 U.S. large caps, as measured by the (SPY A), ended last month up 0.6%. The night session contributed 1.9% of positive performance, partially offset by the day session's 1.3% decline in May.
Meanwhile, small caps, measured by the (IWM A-), declined 0.9% in May. The night trading session ended the month up 1.9%, negated by the day session's 2.7% fall.
---
Content continues below advertisement
How the Night Effect Enhanced Portfolios
Academic research has suggested multiple reasons as to why the night effect exists, with the frequently stated rationale focusing on the timing of information flow, risk management practices, and liquidity premiums arising from differences in the trading volumes between the day and night session, according to NightShares
In addition to enhancing returns, NSPL, NSPY, and NIWM can help diversify portfolios. Notably, the overnight session of the market has a lower correlation to the full market session than commonly used alternatives including real estate and equity hedge funds.
Non-correlated assets have demonstrated an ability to dampen volatility in a portfolio and often lead to higher overall portfolio returns.
For more news, information, and analysis, visit the Night Effect Channel.