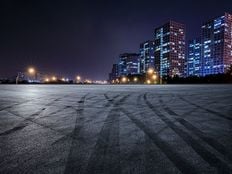 NightShares offers three ETFs designed to efficiently capture the night effect for investors.
The night effect is a market anomaly whereby overnight markets have historically outperformed the daytime trading session on a risk-adjusted basis. Over the past 20 years, the night session has delivered much of U.S. large- and small-cap equities' returns with much lower volatility than the day session.
Until the NightShares ETFs launched in 2022, investing in the night was previously only accessible on an institutional trading floor or at a hedge fund.
Use NSPY and NSPL as U.S. Large Cap Holdings
The (NSPY ) offers exposure to the night performance of 500 large-cap U.S. companies. For investors looking to maintain day exposure but overweight the night, the (NSPL B) is a solution.
NSPL provides investment results, before fees and expenses, that correspond to 100% of the performance of a portfolio of 500 large-cap U.S. companies during the day and 150% of the portfolio performance at night.
Investors can use NSPY and NSPL as core U.S. large-cap holdings. The funds can enhance returns and dampen volatility.
---
Content continues below advertisement
Use NIWM in Small Cap Allocations
The (NIWM ) provides exposure to the night performance of 2000 small-cap U.S. companies. Investors can use NIWM to access small cap stocks or use the fund in tangent with other small-cap ETFs to smooth out volatility and enhance risk-adjusted returns.
Looking at the 20-year past performance of the iShares Russell 2000 ETF (IWM), more than 100% of the funds positive performance has come during the night session.
Use NightShares ETFs in the Alternatives Sleeve of Portfolios
Historically, over the past two decades, overnight trading sessions have proven to offer a differentiated return profile than daytime trading.
The night session of the market has lower correlation to the full market session than commonly used alternatives such as real estate and equity hedge funds, making it a useful tool for diversifying client portfolios.The night session also has low correlation to the returns of other alternatives, including commodities and precious metals.
See more: Use NightShares ETFs in the Alternatives Sleeve of Client Portfolios
For more news, information, and analysis, visit the Night Effect Channel.