Portfolio Strategies Channel
Several key economic indicators are released every week to help provide insight into the overall health of the U.S. economy. Last week's releases shed light on various aspects of the labor market. This includes payroll numbers, unemployment data, job openings and labor turnover, and business activity in different sectors of the labor market. 
These economic indicators are closely watched by policymakers and advisors trying to understand the direction of interest rates. After all, this data can have a significant impact on business decisions and financial markets.
In the week ending on May 4, the (SPY A) fell 1.77% while the (RSP B+) was down 2.01%. On May 3, the Federal Reserve raised rates by 25 basis points on to between 5.00% and 5.25%. However, it signaled a possible pause on rate hikes in the coming months. 
Employment Report 
The April employment report showed a labor market unexpectedly heating back up. The market added 253,000 jobs in April, well above expectations of 180,000. Despite many indicators pointing to an economic slowdown, April's jobs numbers represented the largest increase seen in the past three months.
Additionally, the unemployment rate fell to 3.4%, its lowest level in the past 54 years. Wage growth accelerated to 4.4%, better than the expected 4.2%. Overall, the strong jobs report came as a surprise with robust employment, a falling unemployment rate, and accelerated wage growth indicating a solid labor market. 
---
Content continues below advertisement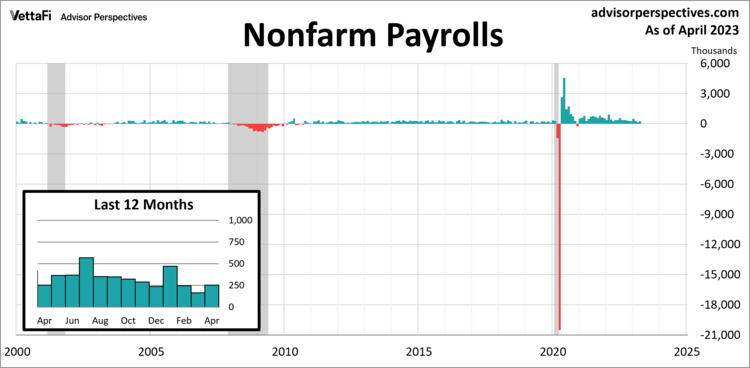 Job Openings and Labor Turnover (JOLTS) 
The March JOLTS report revealed a third consecutive drop in job openings, with the number of vacancies falling to a nearly two-year low. In March, job openings declined by 384,000 from the previous month. Openings reached 9.590 million, lower than economists' expectations. While a decrease was anticipated, the actual figure was surprising, as it fell short of the predicted 9.775 million vacancies. The report also showed hiring practically unchanged at 6.1 million, while layoffs rose to 1.8 million, and quits fell to 3.8 million.
The JOLTS data helps gauge labor demand. As such, this latest report indicated a continuing cooldown of the labor market. Nevertheless, there are still 1.64 jobs available for every unemployed worker. Also, job openings are still well above pre-pandemic levels.  
ADP Employment Report 
Private employment has declined since the end of 2021 and has recently returned to pre-pandemic levels. The April ADP employment report was consistent with the trend. The market added 246,000 private jobs last month, the largest monthly gain since July 2022. This is a significant increase from the 142,000 private jobs added in March. It's also well above the expected 148,000, signalling a resilient labor market in the face of a cooling economy.
The report also revealed that pay growth had slowed down to 6.7%. This is a positive signal for the Fed that inflationary pressures, such as wage gains, are easing.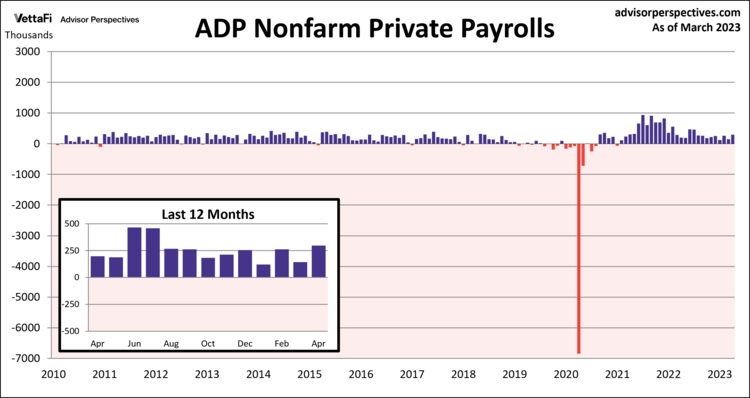 Be on the lookout for these important economic indicators this week: April's Consumer Price Index (CPI), April's Producer Price Index (PPI), and May's preliminary report for the Michigan Consumer Sentiment Index. These reports will provide more insight into whether U.S. inflation continues to cool as well as consumer opinion on the overall health of the economy. While headline CPI is expected to remain steady at 5.0% year-over-year, core CPI is expected to slow to 5.5%. Similarly, headline and core PPI are forecasted to continue their slowdowns to 3.3% and 2.5% year-over-year, respectively. The preliminary report for the Michigan Consumer Sentiment Index, which could impact interest in the (XLY A), is predicted to show a slight decline from April's final reading of 63.5 to 63.0. 
For more news, information, and analysis, visit our Portfolio Strategies Channel.