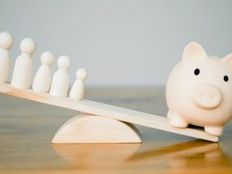 Portfolio Strategies Channel
There's an abundance of optimism a few weeks into the new year, and given that the S&P 500 is in the green so far, it makes sense. However, investors looking to extract more gains from the recent rally may want to look at the (RSP A-), an equal-weight fund which has outperformed the broader index over the past few months.
In the most recent stock market rally that started late last year, the S&P 500 is up about 6%. Compare that to RSP, which is up about 11%, giving investors that extra 5% of gains in the same three-month time period.
Per its fund description, RSP seeks to track the investment results of the S&P 500® Equal Weight Index. Putting this index under a microscope, RSP adds a varied mix of primarily large- and mid-cap equities.
Getting that mid-cap exposure can also contribute to the more amplified gains. Mid-caps can capture extra upside when markets trend higher, which helps in RSP's outperformance.
Mid-cap exposure straddles a fine line between getting the safety of large-caps while also incorporating the growth component of small-caps. In essence, it's the best of both worlds when it comes to maximizing gains.
Delving further into the fund description, RSP fund generally invests in at least 90% of its total assets in the securities that comprise the index. Strictly in accordance with its guidelines and mandated procedures, the index provider compiles, maintains, and calculates the underlying index, which, as mentioned, is an equal-weighted version of the S&P 500® Index.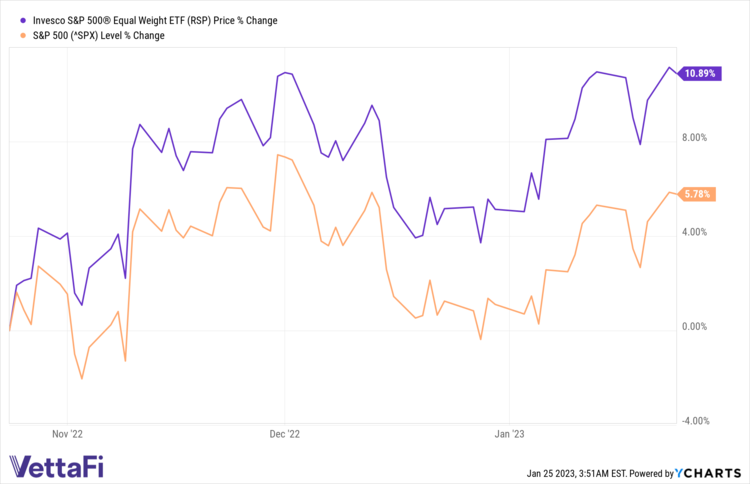 Mute Effects of a Volatile Earnings Report
As mentioned earlier, an abundance of optimism is good when it comes to investor sentiment. However, an over-abundance of optimism can leave investors prone to headaches should markets pull back.
The next week or so will be particularly vital given that big tech companies occupy a sizeable portion of the S&P 500. As such, this could leave the index susceptible to volatile moves in the market whether they're to the upside or the downside.
An equal-weight strategy can help minimize concentration risk, so investors are not too heavy with one or a few stocks in a portfolio or in the tech-heavy S&P 500. With big tech's earnings forthcoming, investors who want to mute the volatility should look at getting equal-weight exposure via funds like RSP.
"S&P 500 companies are set to report weak earnings this year, with the market is still reeling from the impact of Fed rate hikes in 2022 and cooling inflation set to take a bite out of revenues," a Business Insider report noted. "Central bankers hiked interest rates a whopping 425-basis-points last year and signaled they will start to ease up on their tightening efforts in 2023."
Big tech companies were the darlings at the height of the pandemic as social distancing measures forced a heavier reliance on their products and services. Now, big tech valuations are coming back down to earth.
Nonetheless, RSP can capture the upside if tech earnings are better than expected. Likewise, if investor sentiment sours on big tech, RSP also protects the downside by avoiding heavy concentration in big tech — investors can essentially get volatility protection baked into the fund.
For more news, information, and analysis, visit our Portfolio Strategies Channel.
---
Content continues below advertisement