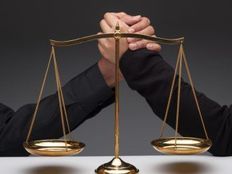 Portfolio Strategies Channel
Equal weight outperformed the cap-weighted S&P 500 by 650 basis points in 2022.
The tracks the S&P 500 Equal Weight Index, which includes all constituents in the S&P 500 but gives them equal weights at each quarterly rebalance. The portfolio overlap, as measured by the percentage of index weights held in common, between the S&P 500 and equal weighting is 52% as of September 30, according to S&P Dow Jones Indexes.
The S&P 500 declined -18.1% in 2022 compared to RSP's decline of -11.6%, each on a total return basis. While equal weight consistently outperformed last year, the gap between RSP and the S&P 500 widened substantially during the fourth quarter.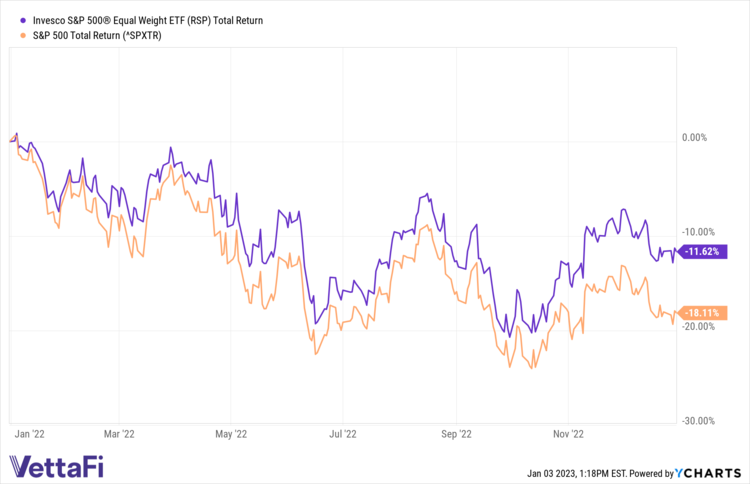 Equal weight's methodology of selling relative winners and buying relative losers adds factor tilts to a portfolio. As of the end of the third quarter, the S&P 500 Equal Weight Index tilts towards small size (47.8%), value (33.4%), and dividend (15.6%) compared to the S&P 500. It also has a tilt away from quality (-23.7%), low volatility (-6.0%), high beta (-4.5%), and momentum (-3.1%), according to S&P Dow Jones Indexes.
The  offers the same methodology as RSP but implements a screen for ESG criteria. RSPE declined -12.2% in 2022, maintaining a lead over the S&P 500 throughout last year.
Holdings in RSP that have been screened out of RSPE include FedEx Corp. (FDX), Duke Realty Corp. (DRE), Boeing Co. (BA), Incyte Corp. (INCY), Eli Lilly & Co. (LLY), Monster Beverage Corporation (MNST), Laboratory Corp. of America Holdings (LH), Zoetis Inc. (ZTS), Arthur J Gallagher & Co. (AJG), and FactSet Research Systems Inc. (FDS), among others.
RSP and RSPE each charge a 20 basis point expense ratio.
For more news, information, and strategy, visit our .
---
Content continues below advertisement