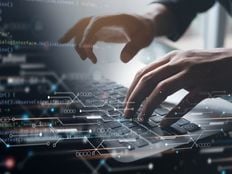 Portfolio Strategies Channel
Concentration is a chief concern for investors allocating to the top-heavy tech sector.
The technology sector's current adjusted Herfindahl-Hirschman Index (HHI) level of 9.6 is in the 99th percentile of observations, according to S&P Dow Jones Indices. The long-term average adjusted HHI level is 4.9, highlighting the historically high levels of concentration that investors are currently facing.
Adjusted HHS is defined by S&P Dow Jones Indices as the sector's HHI divided by the HHI of an equal weight portfolio with the same number of stocks.
See more: Is Big Tech Getting Frothy? Consider This Equal-Weight Option
S&P Dow Jones Indices noted when concentration has been relatively high in the past, it has subsequently tended to decline. Cap-weighted indexes have historically lagged equal weight after peaks in concentration. This suggests equal weight strategies may be better positioned in the second half if concentration normalizes.
The (RSPT B+) tracks the S&P 500 Equal Weight Information Technology Index, providing exposure to all the companies included in the technology sector. The strategy differs as it gives each company an equal weight at quarterly rebalances.
An equally weighted approach spreads risk around, effectively enhancing diversification and mitigating concentration risk. This results in exposure that is considerably more balanced than cap-weighted funds.
The technology sector ranks second among all sectors for having the greatest total weight of the largest five companies, trailing only communication services.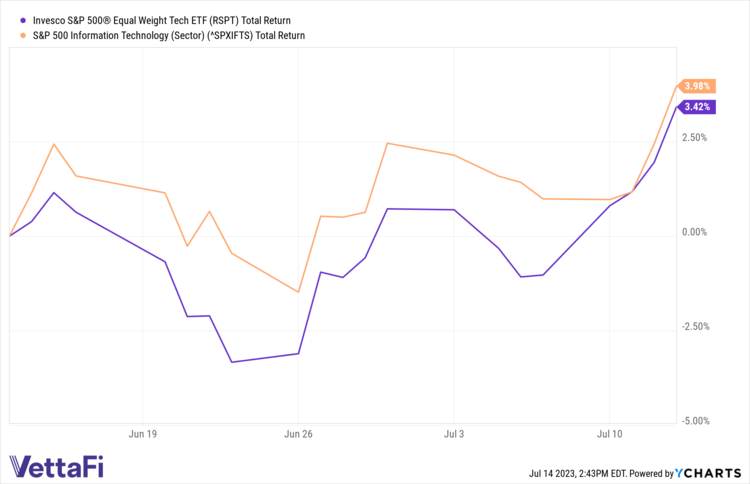 As of July 13, RYT has increased 3.4% in the past month compared to the cap-weighted technolog sector's 4.0% increase. Over a one-year period, RYT has gained 27.9% while the cap-weighted index has climbed 40.2%.
For more news, information, and analysis, visit our Portfolio Strategies Channel.
---
Content continues below advertisement