Portfolio Strategies Channel
While consumer spending data has cooled, the retail consumer still remains relatively resilient — especially when it comes to higher-end, discretionary items that have strong brand recognition.
Looking at broader economic data, it's difficult to separate out luxury apparel and accessories versus clothing necessities, but certain categories that are heavily tilted toward discretionary/luxury spending like cosmetics, perfumes, bath, and nail products have continued to grow in real dollars through February 2023 despite significant inflation in food and housing and higher interest rates. This can possibly be explained by the fact that higher income consumers typically spend throughout economic cycles — but it is likely that consumer culture in general is becoming more influenced by internet and social media, and leisure goods with a strong, unique brand awareness will continue to carry pricing power during tough economic times.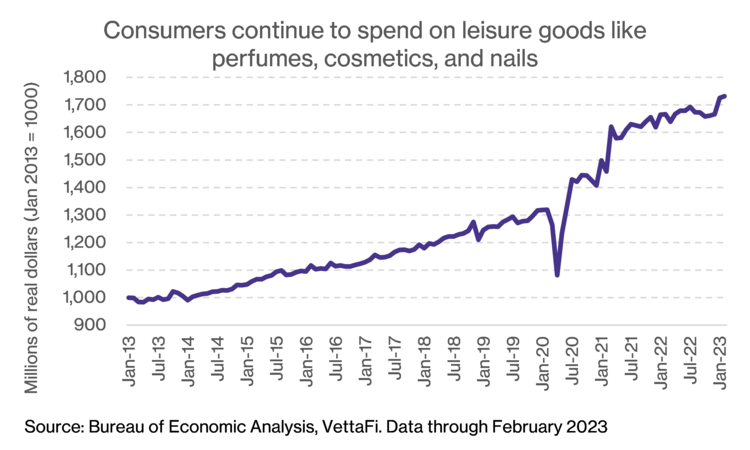 From an investing perspective, consumer discretionary stocks have performed relatively strongly this year even through market volatility. Consumer discretionary stocks are generally nonessential items that are associated with leisure or entertainment. Examples of stocks in the (XLY A) include (AMZN), (HD), (NKE), and (MCD). In contrast, consumer staples stocks are generally essential items like food, hygiene, and other household products.
Examples of stocks in the (XLP A) include (PG), (KO), (COST), and (WMT). XLY is up 14.5% YTD compared to XLP, which is up 0.5% YTD. The top performers in XLY include (TSLA), which is up 56.3% YTD, and several travel stocks including (WYNN), (MGM), and (BKNG) which are benefiting from continuing demand for "revenge travel" post-pandemic. Among consumer discretionary, I think luxury and other higher-end goods/services will continue to stand out for higher-income consumers who continue to spend through all phases of the economy, but also for middle-income consumers who are influenced by internet and social media branding.
---
Content continues below advertisement
Consumers will continue to spend money, and much of that will be driven by luxury and leisure stocks.
First of all, what is a luxury good? There is an economic definition of luxury goods which basically says that if you earn more money, demand for certain goods will increase. This typically includes companies within the retail, automotive, and technology sectors like (MC:PAR), (MBG), and Tesla. These stocks are mostly consumer discretionary stocks, but lines between industry classifications can sometimes be blurry. For example, the S&P Global Luxury Index includes stocks like (EL) and other cosmetics brands which are classified as consumer staples even though they contain some luxury product segments. There are also "luxury-light" products that aren't necessarily high end and appeal to a broader range of consumers. I believe these stocks are generally less sensitive to income — meaning that if you make less income in a year, you may not necessarily cut out these products given their lower price points. These stocks could include Nike, (LULU), and (SBUX).
Luxury companies typically perform well for several reasons. First of all, consumers with higher incomes are less sensitive to changes in the market environment and may be less likely to change spending habits (see this note for more details). Second, many luxury products are big-ticket items like cars, purses, or jewelry which are purchased only once every few years. And lastly, even consumers in average income brackets are likely to continue to buy luxury-light products due to their relatively lower price points and strong brand awareness. Younger generations, like Millennials and Gen Zers, tend to have shopping habits linked to influencers and other social media trends. Last week, for example, Lululemon reported that its 4Q same-store sales increased by 27% y/y and attributed much of its success to unaided brand awareness. Price-sensitive consumers may be the most likely to cut back on discretionary spending; however, they may continue to shop smarter instead of harder while looking for deals and discounts through e-commerce shopping and online channels (see this note for more details).
Investors have options for consumer discretionary ETFs, including broad sector ETFs and thematic ETFs.
For consumer discretionary ETFs, investors have several options including XLY and the (RCD). But for investors that want more exposure to luxury stocks, there are currently no dedicated luxury good ETFs in the U.S. The (LUXE B) was launched November 2020, but shut down just short of its two-year anniversary in October 2022. The previously-mentioned S&P Global Luxury Index is only linked to three different ETFs — all of which are non-US ETFs. For reference, these three ETFs are: Amundi IS S&P Global Luxury ETF-C EUR (GLUX), Amundi IS S&P Global Luxury ETF-C USD (LUXU), and the HANARO Global Luxury S&P (SK: 354350).
A close proxy to a luxury stock ETF would be a thematic ETF like the (MILN C) which holds many of the luxury-light stocks mentioned above that are popular with younger generations. The (JRNY B-) holds luxury stocks like LVMH and Estee Lauder in its top holdings in addition to hotels, resorts, and other travel stocks. YTD, these ETFs are performing closely in line with the broader consumer discretionary ETFs, despite having different holdings. MILN is so far up 13.9% YTD, while JRNY is up 12.5%. For reference, the S&P 500 Index is up 6.8% during the same time period.