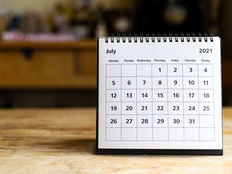 Portfolio Strategies Channel
Equal weight slightly outperformed the benchmark in July as market breadth remained stronger than in the first half.
The market continued to climb in July as investors focused on second-quarter earnings reports, further propelled by better-than-expected macroeconomic updates. For the second month, returns were broad even as market breadth declined slightly (remaining above the narrowness seen during the first five months.)
The S&P 500 Equal Weight Index, tracked by the (RSP A-), outpaced its cap-weighted parent S&P 500 last month, up 3.5% compared to the benchmark's 3.2% rise.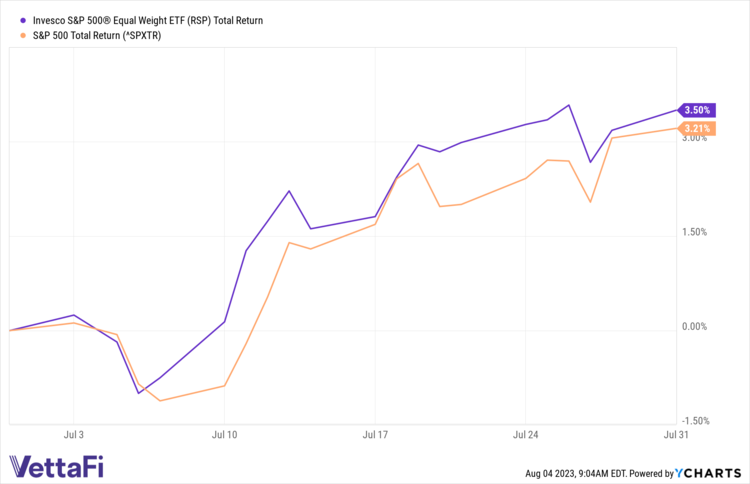 RSP gives every security in the S&P 500 an equal weight at each quarterly rebalance. Equal weight's methodology of selling relative winners and buying relative losers adds the small size and value factor tilts to a portfolio, which led to the strategy's significant outperformance last year.
Over the past 12 months, consumer discretionary has been the top performing sector for the equal-weighted index. Conversely, information technology has been the top performer for the benchmark.
Most equal-weighted sectors outperformed their cap-weighted counterparts in July. Equal-weighted energy notable outpaced the cap-weighted sector by about 350 basis points during the month.
The sectors in which equal weight lagged were industrials (by 0.3%), consumer staples (by 0.1%), communication services (by 5.1%), and health care (by 0.4%), according to S&P Dow Jones Indices.
Over the trailing 12-month period, however, equal-weighted industrials and health care are beating their cap-weighted counterparts.
The (RSPE B) offers the same methodology as RSP, but screens for ESG criteria. Equal-weighted strategies can provide diversification benefits and reduce concentration risk by weighting each constituent company equally so that a small group of companies does not have an outsized impact on the index.
For more news, information, and analysis, visit our Portfolio Strategies Channel.
---
Content continues below advertisement