Portfolio Strategies Channel
As markets rebound, the two best-performing sectors year to date were the two worst-performing sectors in 2022.
Last year's worst-performing sector, communication services, and runner-up, consumer discretionary sector, are up 10.01% and 13.19%, respectively, between January 1 and February 22. During the same period, the S&P 500 climbed 4.20%.
As investors look to allocate to these sectors while prices are still low, there are equal weight sector ETFs in these top-heavy sectors worth considering. Equal weight sector ETFs reduce concentration risk, preventing a small group of the largest companies from having an outsized impact on the index; a prime example is Meta's impact on the cap-weighted communications services sector in 2022.
Investors can get equal-weight exposure to the sectors with the Invesco S&P 500 Equal Weight Communications Services ETF (EWCO B), which has gained 10.74% year to date, and the Invesco S&P 500 Equal Weight Consumer Discretionary ETF (RCD B+), which is up 10.65% during the same period.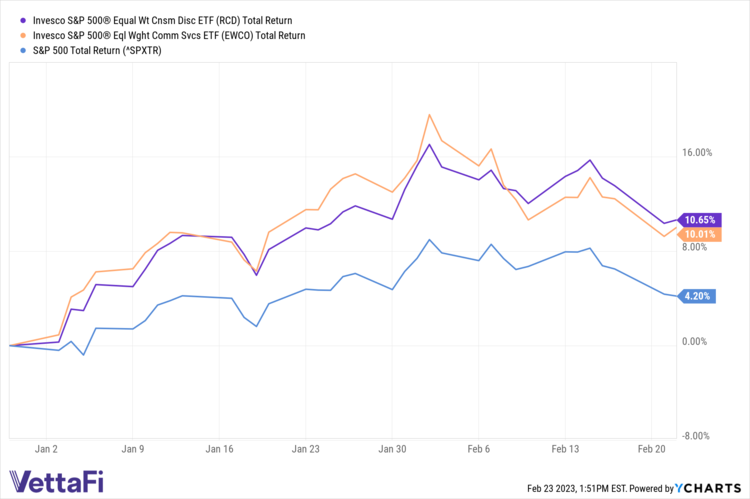 Mega caps were among the greatest laggards in 2022, dragging down cap-weighted indexes with them. The cap-weighted consumer discretionary sector fell 36.23% last year, while cap-weight communication services dropped 37.66%. During the same period, RCD and EWCO declined 24.03% and 29.00%, respectively.
Looking at factor exposures, consumer discretionary and communication services both have a tilt away from low volatility, which negatively impacted the sectors in 2022. In 2023, however, both sectors tilt toward high beta and value, providing tailwinds as those factors outperform.
---
Content continues below advertisement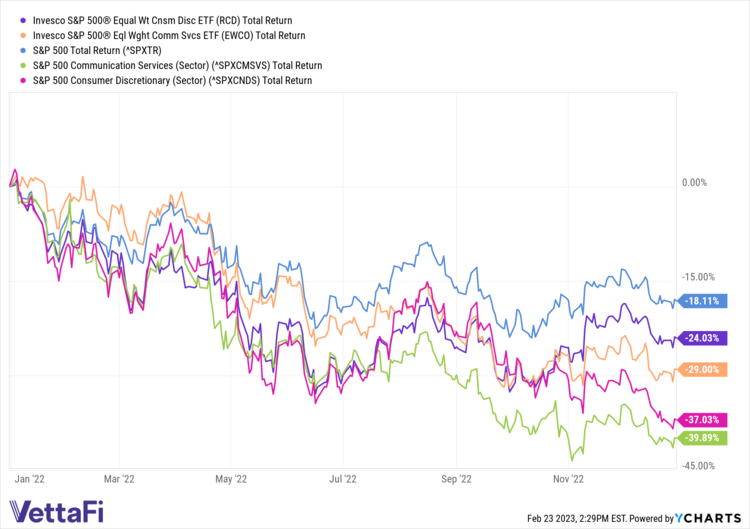 Companies included in the consumer discretionary sector include Etsy (ETSY), Tesla Inc. (TSLA), Amazon.com, Inc. (AMZN), Ford Motor Company (F), TJX Companies Inc. (TJX), Las Vegas Sands Corp. (LVS), Ross Stores, Inc. (ROST), Norwegian Cruise Line Holdings Ltd. (NCLH), Target Corporation (TGT), and Starbucks Corporation (SBUX).
The communication services sector comprises Meta Platforms (META), Warner Bros Discover Inc (WBD), Paramount Global (PARA), Netflix Inc (NFLX), AT&T Inc (T), Activision Blizzard Inc (ATVI), Comcast Corporation (CMCSA), and Walt Disney Company (DIS), among others.
For more news, information, and analysis, visit our Portfolio Strategies Channel.