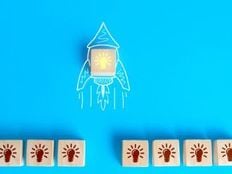 Portfolio Strategies Channel
People say that following insider buying at a particular company is a potentially fruitful for endeavor for investors. This is because directors and high-ranking executives usually scoop up their employer's stock. They see value in the name and believe it will appreciated.
With that in mind, market participants may want to pay attention to insider buying in the financial services sector. Owing to some bank failures, including some of the largest in U.S. history, earlier this year, the third-largest sector in the S&P 500 is trailing that index by a wide margin on a year-to-date basis.
However, things are turning for the better. Over the past 90 days, the (RSPF B) is higher by 10.7%, beating its cap-weighted equivalent and the S&P 500 over that period. There could be more upside on the way for RSPF and its components with the help of insider buying.
"Insider buying at banks is a bullish indicator," noted FactSet's Sean Ryan. "The bank industry entered the second quarter under duress, and plenty of clouds linger, but one very bullish sign is the surge in insider buying. Specifically, the number of insiders making open market stock purchases spiked to 960, even exceeding the figure posted in the first quarter of 2020 when the entire world was shutting down."
Other Factors to Consider
History doesn't always repeat, but bank insiders' buying habits in early 2020 could prove instructive this year. Yes, financial services stocks joined every other sector to downside during the brief coronavirus bear market. However, RSPF finished the year higher by 5.6% and its trough-to-peak rally in 2020 was something to behold.
Over the near-term, the inverted yield curve could pinch some RSPF member firms. This is a scenario that is often a drag on banks.
"The yield curve remains inverted with the 2-10 spread just barely off a very deep bottom. Fed Funds futures continue to price in incrementally more hawkish probabilities," added Ryan.
While the inverted yield curve is a potential headwind for some RSPF member firms, it's not all bad news. Insurance providers could see benefits from rising interest rates in the form of earnings per share growth.
"Life insurance companies were well positioned to benefit from the Fed's tightening monetary policy and rising interest rates over the last year," noted FactSet's Stewart Johnson. "The reason is their investment total portfolios include a high percentage of fixed income securities, which are owned to generate steady, predictable levels of investment income to help pay policy claims. As lower-yielding securities in the fixed income portfolio mature, firms can reinvest the proceeds at higher interest rates and increase total investment income."
For more news, information, and analysis, visit our Portfolio Strategies Channel.
---
Content continues below advertisement