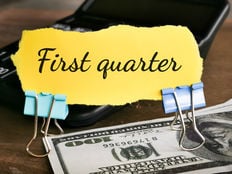 Portfolio Strategies Channel
A handful of large names in the S&P 500 accounted for most of the benchmark's gains during the first quarter.
The top 10 contributors were responsible for 90% of the S&P 500's gains in Q1, with the triumvirate of Apple, Microsoft, and Nvidia contributing over 50%, according to S&P Dow Jones Indices. U.S. large caps had their strongest start to the year since 2019, and the second-strongest first quarter in the past decade.
Notably, the large caps that outperformed during Q1 were among the biggest laggards in 2022, causing many investors to look to equal weight ETFs, which prohibit a small number of names from having an outsized impact on the index.
After outperforming significantly in 2022, the S&P 500 Equal Weight Index began lagging behind its cap-weight parent index in February. Equal weight still maintains its trailing 12-month lead by 142 basis points.
During the last month of the quarter, the S&P 500 climbed 3.7% while equal weight – tracked by the Invesco S&P 500® Equal Weight ETF (RSP A-) – slipped 0.9%. During the full quarter, the benchmark gained 7.5% and equal weight was up 2.9%.
Both equal weight and the S&P 500 slipped in February, declining 3.3% and 2.4%, respectively. In January, the equal weight gained 7.4%, outperforming the S&P 500, which gained 6.3% during the month, its best January performance since 2019.
S&P 500 Leaders in 2023 Were Laggards in 2022
During last year's market downturn, the largest S&P 500 stocks shed a greater share of value versus other constituents in the index. The 10 largest names in the index were worth a combined $7.986 trillion at the end of 2022, down 37% from 2021. The combined market value of all companies in the index fell about 20% during the year, according to S&P Dow Jones Indices.
The 10 largest constituents of the S&P 500 accounted for 24% of the index's combined market capitalization in 2022, down from 29.9% in 2021, according to S&P Dow Jones Indices data.
The largest constituent in the benchmark index, Apple, declined 26.4% on a total return basis in 2022, making it the largest contributing constituent for the S&P 500's low performance in 2022. Amazon and Tesla followed, falling 49.6% and 65.0% in 2022, respectively. Shares of Microsoft dropped 28.0%, and Meta plummeted 64.2% last year.
For more news, information, and analysis, visit our Portfolio Strategies Channel.
---
Content continues below advertisement