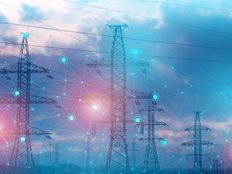 Portfolio Strategies Channel
Of the 11 sectors found in the global industry classification standard (GICS), some are known as growth destinations, while others are viewed in the opposite light. Utilities have long been considered part of the latter group. Often viewed as equities with bond-like traits, utilities stocks have historically been favored by investors seeking the enviable combination of low volatility and above-average dividend yields.
Those usually are not traits associated with growth stocks, but some analysts believe the sector offers more growth prospects than readily meet the eye. That could boost the allure of exchange traded funds such as the (RYU A-).
The $427.2 million RYU isn't yet following the broader market higher to start 2023, but the ETF's year-to-date lethargy might belie attractive long-term opportunity with the fund.
"We think that combination of growth and a still fairly attractive yield offer a good total return for investors in utilities. The utilities that we see with good growth prospects and dividend yields near 4% are the ones that we think are really attractive for long-run investors," noted Morningstar analyst Travis Miller. "Growth is becoming the big variable there. Since interest rates have moved up, the yield properties are less attractive. But the growth potential has become more attractive given the macro trends toward electrification and toward clean energy."
Indeed, utilities stocks are notoriously rate-sensitive, but if the Federal Reserve signals a less aggressive rate-hiking posture and lays off increases altogether in the back half of 2023, RYU would likely benefit. Translation: Declining Treasury yields would make the 2.80% 30-day SEC yield found on RYU more attractive.
One benefit of last year's spike in Treasury yields is that it made usually expensive utilities stocks a bit more tolerable on the valuation front. Specific to RYU, more than 47% of the ETF's 32 holdings are classified as value stocks. But even with that, the growth opportunity in the utilities sector today is unusually attractive.
"But this is the best utilities growth environment that we've seen in decades. When you combine those big macro themes of electrification and clean energy, we're seeing utilities with growth prospects that we haven't seen in many, many, many years. And these aren't just growth prospects for the next year or two. This is growth that we think can last for a decade or more. A lot of the clean energy goals and the electrification goals out there right now are 2040, 2050 goals," concluded Miller.
For more news, information, and analysis, visit our Portfolio Strategies Channel.