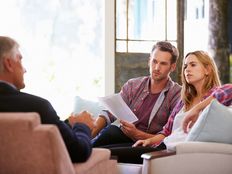 Do you have strong relationships with both spouses in your couple client relationships?
If your advisory practice is like most, couples represent 60% or more of your business.
Many financial advisors do not have a solid relationship with both clients in their couple relationships, nor do they connect regularly with both clients. It probably won't come as a surprise that it is the wife that is often overlooked in those relationships.
Research shows that nearly twenty-five of all financial advisors admit that the primary contact in their couple relationships is with the husband. It is dangerous territory to neglect the wife in couple relationships.
Be sure to visit our Practice Management centre for the most recent updates.
She Will Leave You
The statistics are alarming. Seventy percent of widows will fire their financial advisor after the death of a spouse. In other words, she will leave you if you are not connecting with her.
According to the U.S. Bureau of Labor Statistics, 90 percent of women will solely be responsible for their finances at some point in their lives due to widowhood, divorce or being single.
You must connect with both clients in your couple relationships in order to succeed or the result could be detrimental to your business.
---
Content continues below advertisement
Don't Make Assumptions
It is best not to make any assumptions about who controls the finances in the marriage. Many advisors erroneously assume because the wife may be silent in client meetings that the husband controls the household finances.
Research from Allianz states that 51% of women are in fact the Chief Financial Officers of the household finances.
Furthermore, 37% of women are the primary breadwinners in their family.
Insist Both Clients are Present
When it comes to best practices for succeeding with couple clients, always insist that both partners are present at all client meetings.
It is paramount to set the expectation from the onset of the relationship that you believe both spouses must attend all client meetings. You want to set the precedence of the importance to openly talk about money as a couple.
Going along with the premise that both partners should attend all meetings jointly, both clients should also be copied on all communication, including emails.
Even if one spouse indicates that it isn't necessary, insist that is your business policy. After all, you have fiduciary responsibility to both partners in your joint client relationships.
Stay Neutral
When working with couples, it is commonplace that couples will not always agree when it comes to financial decision making.
When disagreements and even minor feuds occur, always stand on common ground and stay neutral. When couples are not seeing eye to eye on a particular issue it is not wise to take sides.
Don't Keep Secrets
Going hand in hand with staying neutral, it is never wise to be a keeper of secrets among spouses in your joint client relationships.
In research conducted by TIAA-CREF Asset Management, nearly half of advisors indicated that one of the spouses of a couple asked them to keep a financial transaction secret from the other. Eighty-eight percent of the financial advisors surveyed had honored a request like this at least once and 38% indicated they honored these requests whenever asked.
Keeping secrets as an advisor might seem harmless at first blush, but it is a slippery slope. It is not only dishonest, it can open you to regulatory discipline and possible litigation, especially if there is ever a divorce between the couple. Again, your fiduciary responsibility is to both members of your couple relationships and should always be at the forefront.
Keeping Her Engaged
Some advisors believe that the wife in their joint client relationships seemed unengaged and didn't want to talk about financial matters.
Typically, this may be true with older female clients. If you find yourself in this situation with some of your older client couples, find a way to engage and connect with her.
Talk to her about her children and grandchildren. Specifically talk to her about her intangible legacy versus just talking about the tangible assets in her portfolio.
Chances are high that she will engage with you in a conversation about her core values, beliefs and life lessons she wishes to pass onto future generations.
You don't have to make a deep connection with her about her financial plan if that is not what interests her. But you can make a deep connection with her about passing on her intangible legacy.
Check out this piece on how to connect with your female clients through philanthropy.
The Bottom Line
Don't make the mistake of overlooking the wife in your couple relationships. Focus on building a relationship with both individuals so that you don't risk losing assets upon the passing of the husband or a divorce.
While working with couples can certainly be complicated at times, maintaining a strong connection with both clients is well worth the effort versus the danger zone of vanishing assets.
Be sure to check out our News section to keep track of the latest news on ETFs.