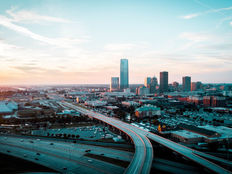 Relative Value Investing Channel
The strength in large caps is certainly something to take note off, particularly when it comes to the Relative Strength Index (RSI) technical indicator–a common tool for traders when assessing whether a stock or exchange-traded fund (ETF) is overbought (the index above 70) or oversold (the index below 30). The RSI indicator could be signaling a potential sell-off for large cap equities, which could in turn, shift the tide for small cap equities.
With large caps currently at 70 and their small cap brethren at 60, does it mean the air is ready to come out of the large cap run? It's not quite clear just yet.
"First, investors moved sharply in favor of large caps and then away from them following the volatility event in early February of that year," David Mazza, Managing Director, Head of Product at Direxion Investments, wrote in Direxion's latest Relative Weight Spotlight. "Unless we see flows continue to trend toward large caps, positioning is not offering much insight as of today."
Earnings season could be the telltale sign as Wall Street analysts were expecting a less-than-stellar earnings season for the first quarter. Investors were looking at a 4.3 percent year-over-year reduction in earnings growth, according to FactSet estimates.
However, the recent earnings reports have been largely positive and better than expected.
"These lowered expectations have reignited talks of an earnings recession yet again with many market pundits predicting a disappointing reporting period and a significant pullback in US stocks," a BMO note on Wednesday said. "However, we reject this notion, and instead see flattish to slightly negative EPS growth for Q1, and a return to positive growth in the forthcoming quarters as companies surprise to the upside."
Will this positive growth spill over into exchange-traded funds (ETFs) that track small cap companies? Here are 10 of the best-performing small-cap ETFs year-to-date, according data from XTF.com:
| Symbol | ETF Name | YTD |
| --- | --- | --- |
| (ASHS ) | Xtrackers Harvest CSI 500 China-A Shares Small Cap Fund | 37.30% |
| (PSCE ) | Invesco S&P SmallCap Energy ETF | 28.51% |
| (MFMS) | Motley Fool Small-Cap Growth ETF | 26.42% |
| (PSCT ) | Invesco S&P SmallCap Information Technology ETF | 24.75% |
| (VBK ) | Vanguard Small Cap Growth ETF | 23.23% |
| (JKK ) | iShares Morningstar Small-Cap Growth ETF | 23.14% |
| (PSCM ) | Invesco S&P SmallCap Materials ETF | 22.20% |
| (JSML ) | Janus Small Cap Growth Alpha ETF | 21.40% |
| (PXSG ) | Invesco Russell 2000 Pure Growth ETF | 20.97% |
| (ESML) | iShares ESG MSCI USA Small-Cap ETF | 20.76% |
Broader-Themed ETF Plays
Will a spate of strong first-quarter earnings allow large cap equities to outperform small cap equities? In a market downturn, investors will typically seek the safer havens of large caps as opposed to small caps, but investors can play this move with Relative Weight ETF products from Direxion.
For investors looking for continued upside in large cap equities over small caps, the Direxion Russell Large Over Small Cap ETF (RWLS) offers them the ability to benefit not only from large cap equities potentially performing well, but from their outperformance compared to their small cap brethren.
Conversely, if investors believe that small cap equities will outperform large cap equities, the Direxion Russell Small Over Large Cap ETF (RWSL) provides a means to not only see small cap stocks perform well, but a way to capitalize on their outperformance versus their large cap brethren.
For more relative market trends, visit our Relative Value Channel.
---
Content continues below advertisement