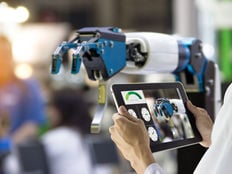 Relative Value Investing Channel
From a global perspective, the rise of the robots continue as Swedish-Swiss engineering group ABB breaks ground on building a $150 million robotics plant in Shanghai. ABB is eyeing 2021 as the completion date for the 67,000-sq.-meter facility.
In addition to a research and development center, the robotics plant, according to the Nikkei Asian Review is said to include "production will be automated with robots moving flexibly from station to station for greater customization. It will feature cutting-edge technologies including digital twin, a feature that allows the analysis of data by bridging the physical and virtual worlds to ease production."
Despite a recent drop in orders, ABB's plans to continue construction show the group's optimism in the robotics industry. As a result of weaker demand in China, ABB's order book fell by 14% annually to $883 million during the second quarter.
Nonetheless, the group forges on.
"Despite short-term market challenges, China's development as a global manufacturing hub, the ongoing trend toward mass customization and a rising shortage in skilled labor will continue to create strong and lasting demand for automation solutions in the region," Sami Atiya, head of ABB's robotics business, said on Thursday.
China is said to be the world's largest market with 133,200 units of industrial robots produced in 2018, based on numbers by the International Federation of Robotics in Germany. This trounces Japan's 52,400 units and 38,100 units in the United States.
Furthermore, ABB predicts that the global robotics market should see an increase from $80 billion annually now to $130 billion by the year 2025.
"In the years ahead, we estimate the breadth and depth of our portfolio will nearly double," Atiya said.
A Relative Value ETF to Consider
Will the proliferation of robotic technology in other parts of the world allow international equities to outperform U.S. equities? The Direxion FTSE International Over US ETF (RWIU C+) gives investors the opportunity to capitalize on this hunch.
RWIU seeks investment results, before fees and expenses, that track the FTSE All-World ex US/Russell 1000 150/50 Net Spread Index. The FTSE All-World ex US/Russell 1000® 150/50 Net Spread Index (R1AWXUNC) measures the performance of a portfolio that has 150 percent long exposure to the FTSE All-World ex US Index and 50 percent short exposure to the Russell 1000® Index.
On a monthly basis, the Index will rebalance such that the weight of the Long Component is equal to 150 percent and the weight of the Short Component is equal to 50 percent of the Index value. In tracking the Index, the Fund seeks to provide a vehicle for investors looking to efficiently express an international over domestic investment view by overweighting exposure to the Long Component and shorting exposure to the Short Component.
This article originally appeared on ETFTrends.com
---
Content continues below advertisement