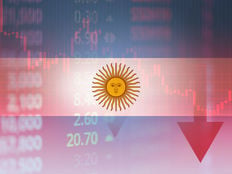 Relative Value Investing Channel
The past few years for Argentina have shown various shifts in trends, but after seeing a surge for their country-specific ETFs leading up to this past weekend, the surprising landslide election win for Alberto Fernandez switched the momentum in a very opposite direction this week.
As ETF Trends previously reported on the plunging value of the Global X MSCI Argentina ETF (ARGT A-) on Monday, which was the immediate response to President Macri's loss. Based on a statement from Nikko Asset Management's Raphael Marechal, it seems as though it's going to continue being a volatile market for the South American nation.
"Many market participants were expecting a closer race between the two candidates and are scared about the possibility of a return of populist policies inspired by Cristina Kirchner," Marechal explained. He continued, "Indeed, the continuation of the reforms started by president Macri and the commitment to the IMF program is seen by many as key to avoiding another credit event in Argentina."
Hold Onto Your Pesos
The economic takeaway from this election indeed has had a negative impact. Currency-wise, the Argentinian Peso and equity markets plummeted 25%, with no choice but to weaken without much higher interest rates.
Additionally, while ARGT is a popular way to invest in this volatile country, the valuations in the ETF are still not as low as needed to make for a good investment. As it stands, ARGT may be the best performing Latin American fund, but it has lost around a quarter of its value.
At the close of markets Wednesday, ARGT stood at $24.30, down 4.18% from yesterday's $25.36 close. Just last Friday the ETF closed at $33.36 ahead of the weekend election, before selling off dramatically when markets opened this week.
Meanwhile, the iShares MSCI Argentina and Global Exposure ETF (AGT B+) hasn't done much better, closing 2.97% lower at $20.96. AGT closed at $28.45 last Friday.
The election even had an impact on surrounding markets. As Marechal explains, "Initially there has been a little bit of contagion to some other high beta EM liquid markets (Mexican Peso, Turkish Lira, South African Rand, Brazilian Real)."
Related: Why Caution Is Required With Argentina ETFs
However, things stabilized a bit. Marechel continues, "On Tuesday the contagion was already fading. The MXN, TRY, ZAR, BRL closed the day in positive territory while the idiosyncratic nature of the Argentine story is again driving most of Argentines' assets lower."
For more information on the developing economies, visit our emerging markets category.
For more market trends, visit ETFdb.com.
---
Content continues below advertisement