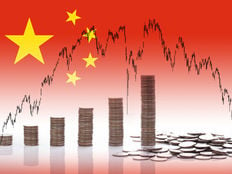 Relative Value Investing Channel
The world's second largest economy is showing signs of slowing and growing debt won't do it any favors, which could also hurt international equities versus U.S. equities.
"China is very much past the tipping point where the debt simply no longer can be ignored. The cost of servicing the debt … simply distracts from almost everything else," said Howie.
Per a report by CNBC, "China's total debt — corporate, household and government — rose to over 300% of its GDP in the first quarter of 2019, slightly up from the same period a year earlier, according to a report by the Institute of International Finance."
The Chinese government didn't help alleviate this debt problem either after it pumped stimulus packages into the economy to shore it up. In addition, banks were extending exorbitant levels of credit to help parallel the effort to stimulate business growth.
However, all that appears to be backfiring.
"China … (had) this huge stimulus and turn on the credit taps and they drove all this global demand," Howie said. "But there clearly was going to be a cost … and now they are suffering (from) it."
Of course, the trade war with the U.S. is also to blame. Furthermore, rate cuts by the Chinese government mean that they're not done with extending even more credit.
"The Chinese economy is clearly slowing, there are a lot of headwinds, there're companies leaving China. China's becoming a much harder investment case for a number of reasons. So is the underlying demand there or not?" he asked.
Of course, others may beg to differ and dismiss the issue.
"China's foreign debt risks are under control generally," wrote Ye Haisheng, SAFE director in charge of capital account management, wrote in an article in April. "However, a country relying too heavily on foreign debt is subject to debt-related risks and even currency and financial crises."
ETF Plays to Consider
One ETF to consider is the Xtrackers Harvest CSI 300 China A ETF (ASHR B+) as a way for investors to gain exposure to China's biggest, best and most authentic equities. ASHR seeks investment results that track the CSI 300 Index that is designed to reflect the price fluctuation and performance of the China A-Share market. In essence, it's composed of the 300 largest and most liquid stocks in the China A-Share market, including small-cap, mid-cap, and large-cap stocks.
For investors sensing continued upside in U.S. equities over international equities, the Direxion FTSE Russell US Over International ETF (RWUI B) offers them the ability to benefit not only from domestic U.S. markets potentially performing well, but from their outperformance compared to international markets.
This article originally appeared on ETFTrends.com.
---
Content continues below advertisement