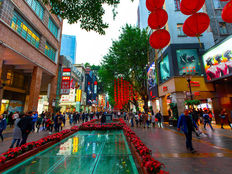 Relative Value Investing Channel
Before it made sweeping economic reforms and trade liberalization nearly 40 years ago, China cultivated policies that concentrated on keeping its economy poor, stagnant, centrally controlled, vastly inefficient, and relatively isolated from the global economy.
Then in 1979, the country implemented dramatic investment and free-market reforms, and has since been among the world's fastest-growing economies, with real annual gross domestic product (GDP) growth averaging 9.5% through 2018, a pace described by the World Bank as "the fastest sustained expansion by a major economy in history."
With this sustained growth China has been able to double its GDP every eight years, on average, and helped raise an estimated 800 million people out of poverty, becoming the world's largest economy (on a purchasing power parity basis), manufacturer, merchandise trader, and holder of foreign exchange reserves, and a major commercial partner of the United States.
"China in the last 40 years had more growth, I think, than any country in history. It's an astonishing miracle what they did. But they did it behind tariff walls. They did it behind markets that are not accessible. They did it with other approaches to intellectual property than are shared in the developed world," said Stephen Schwarzman, the billionaire co-founder of investment powerhouse Blackstone on CNBC. "So their desire to give all that up and their growth rate is obviously low."
Beijing is the largest U.S. merchandise trading partner, biggest source of imports, and third-largest U.S. export market. China is also the largest foreign holder of U.S. Treasury securities, which assist in funding the federal debt and keeping U.S. interest rates low. This makes completing a trade deal especially important for the U.S. and the world.
Officials from China said Tuesday that "vice ministerial" representatives will be visiting Washington this week to prepare for higher-level talks next month, aimed at terminating the protracted trade war between Beijing and Washington, which has resulted in billions and billions of dollars in import tariffs on both sides and rattled markets.
"The developed world has suffered. We've got 40% of our people who are really hurting in this country whether it's [they]can't write a $400 check or don't pay income taxes. It's not because it's something they do not want to do. It's just they're hurt," said the Blackstone chairman and CEO, author of the new book out Tuesday, "What It Takes: Lessons in the Pursuit of Excellence."
"That leads the developed world to say to China: 'We've got to rebalance this. It's working for you. It's not working for us,'" he added. "So when you make that kind of approach, they realize they need to do changes."
While investors are sifting through the plethora of opportunities the emerging markets space has to offer, investors can play to the strength of the EM space over developed markets. For investors looking for the continued upside in emerging market assets, whether driven by a weakening USD or continued developments around trade, the Direxion MSCI Emerging Over Developed Markets ETF (RWED ) offers them the ability to benefit not only from emerging markets potentially performing well, but from emerging markets outperforming developed markets.
Conversely, if investors believe that resolutions to the big issues impacting sentiment today are in motion, the Direxion MSCI Developed Over Emerging Markets ETF (RWDE C+) provides a means to not only see developed markets perform well, but a way to access a convergence/catch-up in performance of DM relative to EM, a spread that has clearly widened over the past 6 months.
This article originally appeared on ETFTrends.com