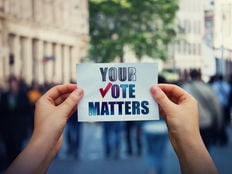 Relative Value Investing Channel
While President Trump has affected markets with tweets and posturing, is it possible a Democratic presidential nominee like Elizabeth Warren could alter it herself in the future?
Warren has made it no secret she is not the biggest fan of Wall Street and big business, claiming recently in Iowa, "Our democracy has been hijacked by the rich and the powerful." Although it did not have an incredibly wide viewing reception, a video clip Warren's office produced was released in mid-July with the tagline "Stop Wall Street looting," now has Blackstone and other private equity firms rattled.
In corporate boardrooms and investor conferences across America, Mrs. Warren's rise in the Democratic primary polls is upsetting bankers, investors, and their wealthy clients, who view the Massachusetts senator as a formidable opponent who could harm not only their industry but their way of life.
Some finance executives who chose to remain anonymous recently told Senate Minority Leader Chuck Schumer they are currently refraining from donating to Democrats running for Senate in 2020 due to their concerns Sen. Elizabeth Warren will become a favorite in the race for the party's presidential nomination, according to people familiar with the conversations.
The decision is intended to compel party leadership and Schumer, who represents New York and has received millions of dollars in donations from Wall Street, to disentangle themselves from Warren's economic populism.
"They feel, rightly or wrongly, attacked. Not just that there will be higher taxes, but that she is running her entire campaign as them being boogeymen," said a political advisor familiar with the deliberations. "They don't feel safe going to Trump, they feel disillusioned by Biden, and they see this as a tactic to slow her down. They see it as a way to put pressure on the party as a whole to move away from Warren."
So who do the executives favor? Privately they say that they still hope Biden will become the Democratic nominee as they contend that Biden is the only candidate who can beat Trump in key battleground states.
"I think at the end of the day it's going to be very hard for Elizabeth Warren to be the leader of the party," Bernard Schwartz, a longtime Democratic donor and the CEO of BLS Investments said, while admitting that he is a fan of her personally yet is not in favor of some of her policies. "I think the party is much more centrist than the people who have the microphone."
While there is much debate about where the markets are headed, if the stocks are poised for more gains, traders can take advantage with leveraged S&P 500 ETFs, such as the Direxion Daily S&P 500 Bull 2X ETF (SPUU A-), Direxion Daily S&P500 Bull 3X ETF (SPXL B+) while the Direxion Daily S&P 500 Bear 1X ETF (SPDN ) can be used for pullbacks and selloffs.
This article originally appeared on ETFTrends.com.