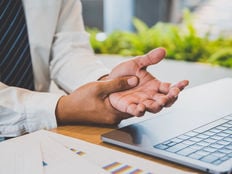 Relative Value Investing Channel
U.S. President Donald Trump said he's not in a rush to force a trade deal with China while the capital markets were expecting a deal completed by December. Of course, this threw the markets off course in Tuesday's trading session with the Dow dropping over 400 points, and could this be a sign that more hurt could come for U.S. equities?
"I don't think it would cause a big swing one way or another," said Art Cashin of UBS. "I think they would say, obviously negotiations are still going on. The reason you've had two pretty significant down days is, people were believing there would be a deal by the end of the year. Now, that's clearly in doubt and that's where we're going."
"The most important question for investors is if Apple will be exempt from the next wave of tariffs that could hit on Dec. 15 if a phase one agreement does not come and thus remains an ominous date and line in the sand for US tech vendors," Cashin added.
U.S. equities could be lifted by news that talks between Trump and Chinese president Xi Jinping are ongoing.
"Alternatively, direct intervention by Trump and Xi following a phone call may further extend the current tariff schedule," he said. "There is speculation that the Nov. APEC summit could be rescheduled for some time in Jan., and an agreement of a one-month tariff delay by the two leaders would better align negotiations to such a timeline. This delay could be beneficial for both sides as it would likely see a decrease of Congressional attention on human rights issues given expected end of year actions on government funding, impeachment, and ultimately recess for the winter holidays, which could provide ample time to reset the U.S.-China relationship heading into 2020."
The  *Direxion FTSE International Over US ETF (RWIU C+)* gives investors the opportunity to capitalize on their hunch that international equities will outdo U.S. equities. RWIU seeks investment results, before fees and expenses, that track the FTSE All-World ex US/Russell 1000 150/50 Net Spread Index. The FTSE All-World ex US/Russell 1000® 150/50 Net Spread Index (R1AWXUNC) measures the performance of a portfolio that has 150 percent long exposure to the FTSE All-World ex US Index and 50 percent short exposure to the Russell 1000® Index.
On a monthly basis, the Index will rebalance such that the weight of the Long Component is equal to 150 percent and the weight of the Short Component is equal to 50 percent of the Index value. In tracking the Index, the Fund seeks to provide a vehicle for investors looking to efficiently express an international over domestic investment view by overweighting exposure to the Long Component and shorting exposure to the Short Component.
This article originally appeared on ETF Trends.
---
Content continues below advertisement