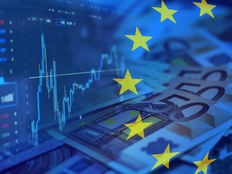 Relative Value Investing Channel
As more global investors turn to cheap broad market exposure, Europe's ETF industry has finally crossed over the $1 trillion assets under management mark.
According to ETFGI data, European-listed ETFs have accumulated $1 trillion in assets for the first time last month after investors funneled a record $125.2 billion of new cash into these passive products last year, or more than double the $56.8 billion for 2018, the Financial Times reports.
"ETF growth has accelerated in Europe as more investors shift their processes from traditional security and fund selection to holistic portfolio construction," Stephen Cohen, head of BlackRock's iShares business in Europe, told the Financial Times.
Europe's ETF industry has doubled in size in four years after price war sent ETF fees lower, poor patchy from active managers discouraged investors and another year of robust returns for big stock markets that passive vehicles reflect attracted greater investment interest.
The ongoing underperformance in the active space has continued to drive away disillusioned investors that have had enough of weak performances and high fees. Nine out of 10 actively managed pan-European equity funds underperformed their passive benchmarks over the 12 months ended June 30, according to the latest data. According to S&P Dow Jones Indices, active pan-European fund managers only provided a modest improvement in performance over longer periods up to 10 years.
Meanwhile, as more fund providers look to expand their global market reach, the increasingly competitive price war has sent fees spiraling lower and helped attract more investors to the passive investment instrument.
"ETF usage by retail investors in Europe still lags far behind the US but it has started to catch up from a very low base," Deborah Fuhr, co-founder of ETFGI, told the Financial Times. "Some fund platforms also do not offer ETFs, which has slowed adoption among retail investors."
Regulatory changes in Europe has also helped bring more money into ETFs. For example, the U.K., the Netherlands and Switzerland have all banned financial advisors from accepting commissions on recommending active funds. The far-reaching new European regulations introduced in 2018, or Mifid II, have also helped cut costs for ETF providers.
This article originally appeared on ETFTrends.com.