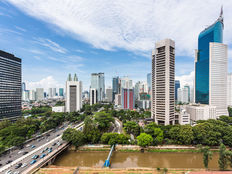 Relative Value Investing Channel
Global recession risk is a common macro view heading into 2020 as developed markets like the U.S. are cutting interest rates as the capital markets, particularly equities, may be in the midst of slowing down after an extended bull run. Thankfully, investors can look to emerging markets (EM) as an option and some market experts feel they can continue on a path of higher growth.
"Although recession risk is in focus globally, we do not expect a recession to materialize in any of the larger emerging market economies except in Argentina," says Moody's Senior Vice President Gersan Zurita. "Emerging markets will continue to have higher growth than developed markets with an expected average economic growth above 4.5% in 2020, compared with just under 1.5% across the largest advanced economies in 2020. However, growth rates are well below their historical averages, particularly in larger economics like Mexico, Russia, India and China."
For investors looking for the continued upside in emerging market assets, whether driven by a weakening USD or continued developments around trade, the *Direxion MSCI Emerging Over Developed Markets ETF (RWED)* offers them the ability to benefit not only from emerging markets potentially performing well, but from emerging markets outperforming developed markets.
RWED seeks investment results that track the MSCI Emerging Markets IMI – EAFE IMI 150/50 Return Spread Index. The Index measures the performance of a portfolio that has 150 percent long exposure to the MSCI Emerging Markets IMI Index and 50 percent short exposure to the MSCI EAFE IMI Index.
On a monthly basis, the Index will rebalance such that the weight of the Long Component is equal to 150% and the weight of the Short Component is equal to 50% of the Index value. In tracking the Index, the Fund seeks to provide a vehicle for investors looking to efficiently express an emerging over developed investment view by overweighting exposure to the Long Component and shorting exposure to the Short Component.
On the flip side of the trade is the the Direxion MSCI Developed Over Emerging Markets ETF (RWDE). RWDE provides a means to not only see developed markets perform well, but a way to access a convergence/catch-up in performance of DM relative to EM, a spread that has clearly widened over the past 6 months. The fund seeks investment results equal to the Emerging Markets IMI 150/50 Return Spread Index, which measures the performance of a portfolio that has 150% long exposure to the MSCI EAFE IMI Index (the "Long Component") and 50% short exposure to the MSCI Emerging Markets IMI Index (the "Short Component").
This article originally appeared on ETFTrends.com.
---
Content continues below advertisement