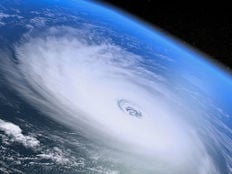 Relative Value Investing Channel
Farmers are struggling in the wake of Hurricane Dorian, which ravaged the Bahamas and has been on the war path up the East Coast, closing in on North Carolina. The devastation caused by the last disasters, Hurrucanes Matthew and Florence is still haunting farmers, who fear further destruction and crop loss from Dorian.
"Florence was devastating for us. We lost everything. All our crops were destroyed," said Jody Clemmons, a farmer of 25 years in Brunswick County, North Carolina.
"It's hard to overcome that in one year. We had a good start this year, but here we are with another storm," he said. "This is now three years in a row of hurricanes."
The two hurricanes collectively caused $35 billion in damage and 102 deaths in the U.S., primarily in the Carolinas.
In addition to deaths and personal losses, the hurricanes are especially agonizing for farmers, as Florence did more than $1.1 billion in crop damage and livestock losses to North Carolina's agriculture sector, topping Mathew's $400 million hit to the agriculture sector.
"In the last three to four years, we've had significant losses due to hurricanes," said Mike Godley, a cotton farmer in Beaufort County, who said he expects his cotton to get pummeled in Dorian's path.
"If we were in a strong financial position with a good savings account and war chest, a modest storm that brings a 25% loss of crops would be sad, but not a final blow," he said.
"But we're already on the ropes. And a 25% or 50% reduction again from Hurricane Dorian — that could make a difference between whether we're here next year or not."
Natural disasters such as hurricanes send traders and investors into a frenzy as they attempt to mitigate the predicted damage that will result, frequently driving crop prices higher.
For example, orange juice futures hit a 12-week high of $1.06 per pound on Friday, as Hurricane Dorian threatened to ravage Florida's orange groves this Labor Day weekend.
The commodity's price climbed about 9% as traders braced for the storm, which was predicted to strike the state's east coast as a Category 3 storm on Sunday.
"One has to be very nervous given the recent path projection," Roy Royce — head of the Highlands County Citrus Growers Association, which produces about 14% of the state's oranges — told Bloomberg.
Now cotton and soybean farmers are also terrified of Dorian ravaging their crops as well.
"This is a tough time for farmers. Their hard work from all year is at stake," said Lance Grimes, an extension agent of agriculture in Martin County Center, North Carolina.
Investors looking at using ETFs to trade agricultural products can consider the Invesco DB Agriculture Fund (DBA A), the iPath Series B Bloomberg Grains Subindex Total Return ETN (JJG B+), or the iPath Series B Bloomberg Cotton Subindex Total Return ETN (BAL B+).
This article originally appeared on ETFTrends.com.