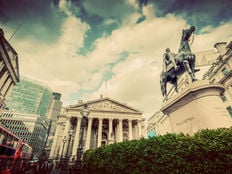 Relative Value Investing Channel
ETF Database Co-Ceo CEO Tom Lydon discussed the WisdomTree Europe Hedged Equity Fund (HEDJ B) on this week's "ETF of the Week" podcast with Chuck Jaffe on the MoneyLife Show. (Note: this podcast was recorded in advance of this week.)
HEDJ seeks to provide exposure to the European equity market while hedging exposure to fluctuations between the U.S. Dollar and the Euro. However, Jaffe points out right away that Europe has not proven to be the best to place to invest as of late.
As a counter, Lydon explained that while a home country bias for equity allocation has paid off quite well for U.S. investors for the past 10 years, about 55% in global market capitalization is found in stocks outside of the U.S. Since everything ultimately reverts back to the mean, it's not always going to mean the U.S. is the place to have all of your money.
Keeping that in mind, Lydon continued, "Probabilities are, in the next 10 years, that developed markets will do quite well." Expanding on that, "Looking at Europe, there are areas like Italy that's pretty stinky. There's Brexit that obviously has a pretty big effect on this. However, there are also certain countries in Europe that are doing quite well."
Lydon notes how the low-rate environment and getting through Brexit will ultimately happen. More important is where the investor chooses to allocate if the decision is made to diversify outside of the US. The consideration here is crucial because of the very diversified index regarding Europe. There's also the importance of taking currencies into account.
Currency Key For Diversification Approach
As Lydon explained further, "We're in a situation where, because the U.S. continues to be very very strong, our currency is probably going to continue to remain strong. In Europe right now, the ECB is looking very closely at inflation. They're also looking at their economic targets. And it appears, as we just had a rate cut here in the US, they may have some more rate cuts up their sleeves going forward."
This could strengthen the economy to a great degree; however, it will probably have a more negative effect on the Euro and other currencies. As a result, having something good for the economy but bad for the currency provides an excellent reason to consider hedged equity.
This allows investment in European stocks, but it is hedged against the strength of the dollar. This means the weak Euro won't work against the investor. As Lydon explained, "This was a great strategy about four or five years ago, and there was a lot of money that flowed into these types of currency hedged strategies. But, since the dollar declined, we didn't really see as much attention there. It may be gearing back up."
Lydon continued by stating, from a PE-ratio or a value-ratio, some of these countries, ones with stocks within the indexes, might be priced right. So, having this currency-hedged strategy on top of that would make for a great way to diversify.
Related: Tom Lydon Discusses Currency Hedging ETF Plays on CNBC
When asked about investment strategies, given how trends have been, Lydon responds by noting an investor is making a definite bet by not hedging the local currency in stocks being purchased. "If you want to remove currency risk at all, have a balance," Lydon states.
Considering non-hedged allocation to Europe, it may be wise to have half hedged with HEDJ so that an investor can take currency risk off the table. However, if the dollar continues to strengthen, and Europe's economic markets continue to stabilize, and even rebound, that would be great. Still, the average investor would be wise to hedge their bets and diversify.
Jaffe then questioned whether there's a specific place for people to be taking these funds from for these investments. Lydon responded by making it clear HEDJ is an ETF to really consider.
"Trade it on a 200-day average, and I think you'll be happy. But the big thing is you gotta watch it on a regular basis." Lydon makes it clear that while it is above the 200-day average, it's not very high above, but that's honestly when you want to buy.
---
Content continues below advertisement
Hear What Tom Lydon Had To Say About HEDJ ETF:
This article originally appeared on our sister site, ETFtrends.com.