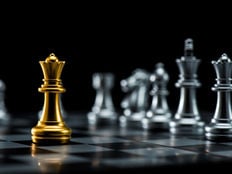 Relative Value Investing Channel
Safe haven investing has been the default play as market volatility descended upon the capital markets the last two months, but simply playing defense won't cut it when it comes to gains. Investors need to not only play defense, but play defense strategically given the current market landscape.
"A lot of people are looking at those consumer staples stocks," said Dave Nadig, managing director at ETF.com on CNBC's "ETF Edge." "I get nervous about leaning hard into consumer staples because the definition isn't what we think it is. It's tobacco. It's retail. I think people should be looking at other ways to play defense."
Nadig also suggests equities that can withstand a draw-down when it happens.
"I would be looking for stocks that exhibit low beta to the market, or that you know historically are going to perform reasonably well in a downturn," Nadig added.
One fund to consider is the Consumer Staples Select SPDR (XLP A). The Consumer Staples Select Sector SPDR® Fund seeks to provide investment results that correspond generally to the price and yield performance of the Consumer Staples Select Sector Index, which seeks to provide an effective representation of the consumer staples sector of the S&P 500 Index.
Based on the latest Yahoo Finance performance numbers, XLP has yielded 22.62% year-to-date. Within the past year, the fund has returned 16.19%.
As opposed to individual exchange-traded funds (ETFs), investors can also look to play defensive sectors over cyclical sectors via relative weight ETFs.
For investors looking for continued upside in U.S. cyclical sectors over defensive sectors, the Direxion MSCI Cyclicals Over Defensives ETF (RWCD C+) offers them the ability to benefit not only from cyclical sectors potentially performing well, but from their outperformance compared to defensive sectors.
Conversely, if investors believe that U.S. defensive sectors will outperform cyclical sectors, the Direxion MSCI Defensives Over Cyclicals ETF (RWDC B) provides a means to not only see defensive sectors perform well, but a way to capitalize on their outperformance compared to cyclical sectors.
"The wrong thing to do as we start seeing some of this negative economic data is to pull the ripcord and say, 'I'm just going into cash,'" Nadig said. "Investors are terrible at making those kinds of timing decisions. I would argue chasing something like real estate because it's had a good quarter [is]also a terrible timing decision for most investors."
This article originally appeared on ETFTrends.com.
---
Content continues below advertisement