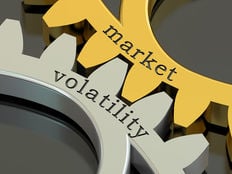 Relative Value Investing Channel
Amid the latest market volatility, it's been large cap equities that have been outperforming small caps thus far, according to Direxion Investments' latest Relative Weight Spotlight for the month of August. The trade wars have most certainly put investors on a rollercoaster ride, but for investors with a queasy stomach, they might want to look at large caps.
"Large Caps (0.58%) for the fourth time this year, and it was the fourth time in the last five months for large cap leadership," a Relative Weight Spotlight post from Direxion Investments noted. "Year-to-date, the spread widened to 3.03%, and the year-over-year spread has now widened to 12.42%. The outperformance seen in large caps over the last month was largely driven by the Information Technology, Communication Services, and Financials Sectors, all of which outpaced the broader market by more than 1.00%. As the macro environment becomes increasingly more opaque, we believe that large caps have offered investors exposure to higher-quality names and companies that are better suited to operate in an environment where longer-term yields continue to fall."
The same can also be said for large caps when it comes to looking at international exposure.
"While large caps continue to show strength relative to small caps, both have done exceptionally well relative to international exposures," the post noted. "The U.S. has outpaced International exposures by 8.27% throughout the calendar year 2019 thus far, and outperformed by 2.69% in the month of July. From a pure performance perspective, domestic equities have dominated international stocks and have only seen three months of relative underperformance over the last twelve. While our model indicates that percentiles for valuations (such as Price-to-Book and both current and Forward Price-to-Earnings) for the U.S. relative to international exposures are on the rise, the overhang of trade tensions and geopolitical risks keep us grounded in maintaining a significant lean towards U.S. equity exposures."
For investors looking for continued upside in large cap equities over small caps, the Direxion Russell Large Over Small Cap ETF (RWLS B) offers them the ability to benefit not only from large cap equities potentially performing well, but from their outperformance compared to their small cap brethren.
Conversely, if investors believe that small cap equities will outperform large cap equities, the Direxion Russell Small Over Large Cap ETF (RWSL C+) provides a means to not only see small cap stocks perform well, but a way to capitalize on their outperformance versus their large cap brethren.
This article originally appeared on ETFTrends.com.
---
Content continues below advertisement