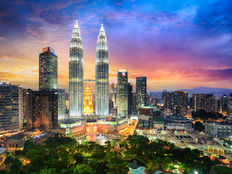 Relative Value Investing Channel
The Malaysian stock market is showing signs of life as the biggest exodus of global funds since 2015 dissipates.
According to Bloomberg, the Malaysian stock market, which it had described as "the world's worst major stock market" earlier this year, is on the rise again having a huge infusion of capital from foreign investors last week, the most since late January.
Overseas investors poured a net $84 million into the nation's stocks last week, the most since late January, Bloomberg-compiled data show. The FTSE Bursa Malaysia KLCI Index has clawed back about half of this year's more than 5% loss that had made it the world's worst major market. Business Analyst Areca Capital Sdn. says it's time to buy, and company earnings are unlikely to get any worse.
Areca Capital Sdn Bhd called for bids on Malaysian company shares, stating that earnings should not fall off from here on.
Its chief executive officer Danny Wong told Bloomberg that it started to buy stocks from Malaysian glove makers and consumer and digital services about two weeks ago.
"There is a bottom in earnings downgrades if you look at results, too-low expectations and low base," said Danny Wong, chief executive officer at Areca Capital Sdn. "We started to nibble in stocks two weeks ago after raising cash since the start of the year," he said. Wong has been buying stocks with exposure to glove makers and companies tied to consumer and digital services.
Some of the biggest stocks to benefit in the market rebound have been the nation's builders, with the Bursa Malaysia Construction Index surging 35% so far this year.
"We see further revivals of large-scale infrastructure projects as catalysts that may provide further upside for construction stocks," Tay Yow Ken, an analyst at RHB Investment Bank Bhd., wrote in a report Tuesday. "Contractors we met recently sounded more optimistic on the sector's prospects, especially in 2H19."
Still, due to ongoing concerns of a trade war and generalized global uncertainty related to the economy, not everyone is so sure the Malaysian market rally will persist.
Alan Richardson, a regional fund manager at Samsung Asset Management Co. in Hong Kong, said he's still underweight on Malaysia stocks due to jitters over the government's lack of fiscal flexibility to tackle a slowdown amid the external challenges. Nevertheless, he still holds some Malaysian shares that have low correlation to the macro issues.
For investors looking to participate in the Malaysian market as it looks to recover, the iShares MSCI Malaysia ETF (EWM B+) might be a good place to start. The fund seeks to track the investment results of an index composed of Malaysian equities. Investors can gain exposure to large and mid-sized companies in Malaysia, achieving targeted access to the Malaysian stock market.
For investors looking for the continued upside in emerging market assets, whether driven by a weakening USD or continued developments around trade, the Direxion MSCI Emerging Over Developed Markets ETF (RWED ) offers them the ability to benefit not only from emerging markets potentially performing well, but from emerging markets outperforming developed markets.
Conversely, if investors believe that resolutions to the big issues impacting sentiment today are in motion, the Direxion MSCI Developed Over Emerging Markets ETF (RWDE C+) provides a means to not only see developed markets perform well, but a way to access a convergence/catch-up in performance of DM relative to EM, a spread that has clearly widened over the past 6 months.
For more investing ideas, visit our Relative Value Investing Channel.