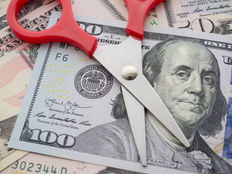 Relative Value Investing Channel
After a brief pop higher, the typical head-fake following FOMC, stocks traded lower on Wednesday as traders digested the Federal Reserve's latest decision on U.S. monetary policy.
The Dow Jones Industrial Average has fallen 168 points, or 0.6%. The S&P 500 has slid 0.7% while the Nasdaq Composite has dropped 1%, as traders considered what another rate cut means for the economy, and investors await a press conference from Federal Reserve Chairman Jerome Powell. Markets continue to drop.
The U.S. central bank cut the overnight rate by 25 basis points to a range of 1.75% to 2%. This is the second time this year the Fed has lowered rates, following a 25 basis point cut in July, which tanked to the market, and was accompanied by an explosion in volatility and investor distress.
However, the Fed's rate outlook for the remainder of the year indicated no further cuts. The Fed was also divided in its decision to lower rates, with three officials dissenting, the most dissents for a Fed decision since December 2014.
"What the Fed's telling you is this is risk management. They want to bring down rates a little bit but they ultimately see the economy as being in good shape," said Gregory Faranello, head of U.S. rates at AmeriVet Securities.
The major indexes were within striking distance of the all-time highs set in July just a few days ago, making investors edgy as volatility tightened. The have fallen off since. Now most experts fear a continued stock market drop and possible recession, as global growth slackens.
"It's going to take some sort of catalyst for the markets to move higher," said Greg Luken, CEO of Luken Investment Analytics. "That will be earnings." He noted that lower interest rates could give stocks a short-term boost, but strong earnings will be needed to keep the market moving higher.
"Can we shrug off this worldwide weakness? I wouldn't bet on it if I were the Fed. A year ago we had synchronized global growth. Now we have global slow down where the United States seems to be the rare exception. The Fed should make sure it stays that way," Cramer explained recently on CNBC's Mad Money.
Investors looking to take advantage of further strength in U.S. equities if the domestic markets respond positively to future rate cuts can look the Direxion FTSE Russell US Over International ETF (RWUI B), which offers them the ability to benefit not only from domestic U.S. markets potentially performing well, but from their outperformance compared to international markets.
Investors who believe the market is ready for a pullback or selloff can look into the Direxion Daily S&P 500 Bear 1X ETF (SPDN ).
This article originally appeared on ETFTrends.com