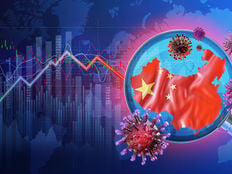 Relative Value Investing Channel
It seems like media outlets can all be medical experts these days amid the coronavirus outbreak. Despite the mixed messages, U.S. equities seem to be recovering from the effects of the virus as the number of new cases subsides.
Investor sentiment is steadily improving on the notion that the impact from the coronavirus outbreak on global growth would be a blip on the radar. Recent revisions in data on new cases of the virus may have thrown a curve ball at investors, but U.S. equities are still thriving nonetheless.
Per a Bloomberg report, "U.S. equities erased losses after the World Health Organization (WHO) said a spike in coronavirus diagnoses doesn't necessarily reflect a sudden surge in new infections. Treasuries trimmed their gains and West Texas crude rallied."
"The S&P 500 Index recovered from early lows after the WHO announcement, and was little changed through the Thursday morning session," the report added. "Earlier, the benchmark had slumped alongside European and Asian equity gauges after officials in China deployed a revised methodology to diagnose the coronavirus, sending the number of confirmed cases soaring."
Despite a setback in January, U.S. equities have gone on to recover and resume their trajectory to new highs in the major indexes. Investors still have to consider the coronavirus as the wildcard that could certainly affect the capital markets further—only time will tell.
"It's too early to tell the overall impact on U.S. markets. We seem to continue to be strong and U.S. consumers continue to be strong," Chris Gaffney, president of world markets at TIAA, told Bloomberg. "The question now is, how quickly can the virus get under control and can China limit the extent and get things back to normal as quickly as possible?"
Trade U.S. Strength Over International
For investors looking for continued upside in U.S. equities over international equities, the Direxion FTSE Russell US Over International ETF (RWUI B) offers them the ability to benefit not only from domestic U.S. markets potentially performing well, but from their outperformance compared to international markets.
RWUI features:
Seeks investment results, before fees and expenses, that track the Russell 1000®/

FTSE

All-World ex-US 150/50 Net Spread Index (the "index").
The fund, under normal circumstances, invests at least 80% of its net assets (plus borrowing for investment purposes) in securities that comprise the Long Component of the index or shares of ETFs on the Long Component of the index.
The index measures the performance of a portfolio that has 150% long exposure to the Russell 1000® Index (the "Long Component") and 50% short exposure to the

FTSE

All-World ex-US Index (the "Short Component").
This article originally appeared on ETFTrends.com.
---
Content continues below advertisement