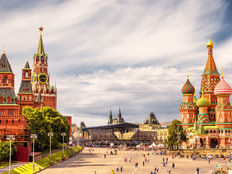 Relative Value Investing Channel
The Russia country-specific ETF could maintain its momentum after the central bank enacted its biggest interest rate cut in two years and hinted at a looser policy outlook in the months ahead.
The VanEck Vectors Russia ETF (RSX B), the largest Russia ETF trading in the U.S., gained 1.0% on Friday and advanced 27.3% year-to-date.
The Central Bank of Russia reduced its key rate to a lower-than-expected 6.5% from 7.0% and hinted that it could cut rates even further with inflation lowering, Reuters reports. Many previously predicted a more modest cut of 25 basis points.
"If the situation develops in line with the baseline forecast, the Bank of Russia will consider the necessity of further key rate reduction at one of the upcoming Board of Directors' meetings," the central bank said in a statement.
The central bank attributed the larger rate cut to weakening consumer inflation, a key indicator it strives to keep under control, which slowed to 3.8% as of October 21, compared to its 4% target.
"Inflation slowdown is overshooting the forecast," the central bank added. "Disinflationary risks exceed pro-inflationary risks over the short-term horizon."
The Russian central bank added that it will maintain a neutral monetary policy stance between 6% to 7%.
"It was a close call," Piotr Matys, a strategist at Rabobank, told Bloomberg. The big cut "accompanied by dovish forward guidance should stimulate demand for Russian bonds amongst foreign investors and the ruble will benefit from that as well," he said.
The half-point interest rate reduction, along with language indicating more easing could be possible ahead, signals the beginning of a "new era of growth-supportive policies," Elina Ribakova, deputy chief economist at the Institute of International Finance, told Bloomberg.
Russia is the latest emerging country to execute bigger-than-expected rate cuts aimed at offsetting below target inflation and weak growth. The high real yields are providing policy makers more wiggle room to push down key rates without negatively impacting foreign exchange markets.
This article originally appeared on ETFTrends.com.