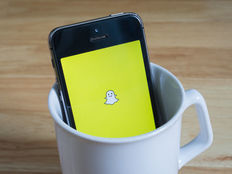 Relative Value Investing Channel
Shares of Snap Inc (SNAP), the camera company that offers Snapchat, gained traction initially before flagging on Tuesday as analysts at Evercore ISI raised their outlook on the social media company's stock, referring to the revenue potential of its new gaming platform.
SNAP rose as much as 3.6% to $16.40 following Evercore ISI's upgrade of Snapchat's parent to outperform from in line. Snap recently was trading off 1.6% to $15.59.
While the company has been primarily known for Snapchat, its camera application that helps people to communicate through short videos and images, it also provides Camera, a tool to personalize and add context to Snaps, and a Friends Page that allows creating and watching stories, chatting with groups, making voice and video calls, and communicating through a range of contextual stickers and Bitmojis, which enables users to create iconic images of themselves as cartoons.
Ad Revenue Driving The Upgrade
Now the launch of Snap Games offers the company the opportunity to beget significant advertising revenue drove the upgrade, Evercore ISI analyst Kevin Rippey wrote. SNAP users who download the app can chat and play with friends and others, with Snap's marketing campaign tagging the new gaming platform as "mobile games, made for friends."
"Gaming provides SNAP a credible vector of incremental growth, naturally fitting with the platform's differentiated appeal to younger cohorts looking for innovative digital experiences to extend real-world relationships," Rippey noted.
While Snap is still seeking out ways of generating income from Snap Games, the report notes, there are already "well-established mobile game monetization comps." The company notes that by 2022, as much as 18% of Snap participants will be playing games on the social media company's new platform.
Related: Pinterest Skyrockets 17%, Social Media Up Big Friday
In December, Snap's stock plummeted to an all-time low of $4.82. But on Friday, they closed at $15.83, returning to near unchanged on Tuesday as the rare upgrade helped the stock avoid the broad market's losses.
As a result, this year, Snap is still up 186%, handily beating the S&P 500 as well as social media competitors Facebook (FB) and Twitter (TWTR), and bringing has Snap close to its 2017 IPO price of $17 a share.
Investors interesting in using ETFs to play SNAP can look into the Global X Social Media ETF (SOCL C) or the Invesco Dynamic Media ETF (PBS C+).
This article originally appeared on ETFTrends.com.
---
Content continues below advertisement