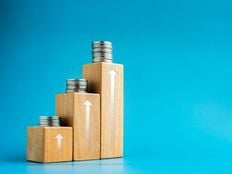 Relative Value Investing Channel
As U.S. markets hit all time highs on Monday, CNBC's Bob Pisani chatted with ETF Trends CEO Tom Lydon and Stuart Frankel's Steve Grasso during a segment of 'Halftime Report'.
Pisani began the segment discussing inflows into growth and emerging markets, as well as the outflows from gold funds, with precious metals, for example, sticking out with over $530 million in outflows in the past two weeks. When asked his opinion of the markets, Lydon explained how with equity markets taking off, there was less favor towards gold.
"That doesn't mean we can't respect what's happening with gold," Lydon said. "(GLD A-) was up almost 20% last year. (GDX B+) was almost up twice that. So, there's some definite momentum in the gold area, and I wouldn't bet against it."
As far as the gold miners go, Grasso added that miners always outperform about 2-3 times what the underlying commodity does, and that goes both ways. It's an anomaly but a consistent one.
Growth's Growing Status
Switching topics, Pisani asks about growth versus value, as growth ETFs have had significant inflows so far this year. Grasso noted that investors had been betting against this, thinking more about the potential of value. That said, the various big names that have been responsible for these numerous growth rallies have come through, and haven't seen much in regards to value just yet.
Moving on to emerging markets, Lydon talked how the trend may continue to move in a positive direction.
"If China trade continues to improve," Lydon states, "That's going to help emerging markets in general. Also, you look at some of these big performing emerging market ETFs, like (KWEB B), where it's online investing, in China, that's booming."
---
Content continues below advertisement
Watch Tom Lydon Discuss Gold, Growth & Emerging Markets on CNBC: