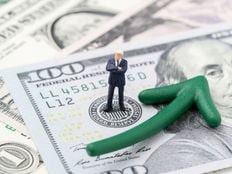 Relative Value Investing Channel
Soon after the quarter-point rate cut by the Federal Reserve, U.S. President Donald Trump took to Twitter for another round of central bank criticizing. This time, he tweeted that the Fed had "no guts, no sense, no vision" after what appeared to be a divided central bank on where to take interest rate policy in the future.
The latest rate cut comes directly after the Fed implemented their first cut in 11 years during their July meeting. The policy statement between the July cut and this month's cut were nearly identical as the central bank cited ""the implications of global developments for the economic outlook as well as muted inflation pressures."
Per a CNBC report, "In a rare move, the Fed's own benchmark fed funds target rate rose to 2.3% on Tuesday, above the target range set when it cut rates at its last meeting in July. The target range is 2% to 2.25%, and the funds rate was at 2.25% on Monday."
"This just doesn't look good. You set your target. You're the all-powerful Fed. You're supposed to control it and you can't on Fed day. It looks bad. This has been a tough run for Powell," said Michael Schumacher, director, rate strategy, at Wells Fargo.
---
Content continues below advertisement
Getting Defensive with Relative Weight ETFs
With the markets digesting the latest rate cut, the major indexes moving to the downside following the announcement could signal that more defensive maneuvers might be necessary moving forward. As such, investors can look to relative weight exchange-traded funds (ETFs) to play either side of the move.
If investors believe that U.S. defensive sectors will outperform cyclical sectors, the Direxion MSCI Defensives Over Cyclicals ETF (RWDC B) provides a means to not only see defensive sectors perform well, but a way to capitalize on their outperformance compared to cyclical sectors.
For investors looking for continued upside in U.S. cyclical sectors over defensive sectors, the Direxion MSCI Cyclicals Over Defensives ETF (RWCD C+) offers them the ability to benefit not only from cyclical sectors potentially performing well, but from their outperformance compared to defensive sectors.
This article originally appeared on ETFTrends.com