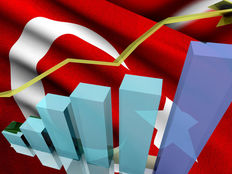 Relative Value Investing Channel
The Turkey country-specific ETF jumped Thursday after Ankara agreed on a ceasefire in northern Syria to allow Kurdish forces to retreat from the region.
The iShares MSCI Turkey ETF (TUR A-) increased 3.8% on Thursday.
"Today the United States and Turkey have agreed to a ceasefire in Syria," US Vice-President Mike Pence told a news conference after more than four hours of talks at the presidential palace in Ankara, Reuters reports.
"The Turkish side will pause Operation Peace Spring in order to allow for the withdrawal of YPG forces from the safe zone for 120 hours," Pence said, referring to Turkey's cross-border military operation.
"All military operations under Operation Peace Spring will be paused, and Operation Peace Spring will be halted entirely on completion of the withdrawal," he added.
The pause in the Syria offensive occurred following talks in Ankara between Pence and Turkey's President Recep Tayyip Erdogan, BBC reports.
Turkey agrees to pause all military operations
Turkey agreed to pause all military operations for five days, and the US will help facilitate an "orderly withdrawal" of Kurdish-led forces from what Turkey has outlined as a "safe zone" on the border.
Turkey's Foreign Minister Mevlut Cavusoglu explained that this is not a total ceasefire but only a pause in operations, adding the offensive would only be permanently halted when the Syrian Democratic Forces (SDF), a Kurdish-led militia that Ankara views as a terrorist group, had left the border zone.
"We are suspending the operation, not halting it," Cavusoglu said. "We will halt the operation only after [Kurdish forces] completely withdraw from the region."
Investors rejoiced on the news after Pence said the U.S. would lift economic sanctions imposed on Turkey when the military offensive ended and would not further pile on more in the meantime. The markets previously feared that further sanctions would weigh on the Turkish lira and hit Turkey's market, similar to what happened when the U.S. previously enacted sanctions in response to actions over a detained Christian pastor last year.
This article originally appeared on ETFTrends.com
---
Content continues below advertisement