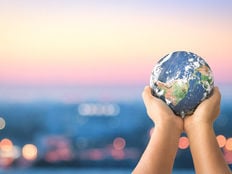 Relative Value Investing Channel
U.S. stock and bond ETFs may continue to outperform in the global markets as foreign investors dive into U.S. assets at the fastest pace in a year, chasing after the more attractive returns.
Year-to-date, the SPDR S&P 500 ETF (SPY A) increased 18.2% while the iShares MSCI ACWI ex U.S. ETF (ACWX A-), which tracks international developed and emerging market companies, rose 8.2%. Meanwhile, the iShares 7-10 Year Treasury Bond ETF (IEF B) gained 10.9% as the SPDR Bloomberg Barclays International Treasury Bond ETF (BWX A+), which includes a relatively close maturity mix of international Treasuries, rose 6.5%.
Foreign investors see American assets as a haven in light of a tepid economic growth, weak returns and growing negative-yielding debt, the Wall Street Journal reports.
International investors have funneled $64 billion into U.S. stocks and bonds in June, the largest sum since August 2018, according to the Treasury Department.
U.S. equities have been outperforming
U.S. equities have been outperforming their developed and emerging market counterparts. Meanwhile, the growing number of government bonds with negative yields have pushed income-minded investors toward relatively more attractive U.S. Treasuries.
Several analysts and investors argue that foreign investors' rising interest for U.S. assets is a revival in American exceptionalism, and the trend could continue.
"I call this the new abnormal," Yoram Lustig, head of multi-asset solutions for Europe, the Middle East, Africa and Latin America at T. Rowe Price, told the WSJ. "We have negative rates across the board, something that's never happened before. But the U.S. is doing much better than other regions."
Related: 11 Alternative ETF Strategies to Help Shield a Portfolio
However, the ongoing broad rally in the U.S. markets have made valuations more expensive relative to the rest of the world. The S&P 500 has outperformed the MSCI all-country index by an average of 70 basis points per month, and analysts warn that pace is not sustainable. Meanwhile, the bond rally has pushed yields to near all-time lows, which leaves Treasuries exposed to more volatile swings in case the safety play fades.
Nevertheless, investor still favor U.S. assets. According to Bank of America Merrill Lynch's survey of 224 fund managers who manage $553 billion in assets, U.S. stocks are more desirable than their overseas peers for the next 12 months, and 15% of respondents revealed they are looking to raise those positions.
This article originally appeared on ETFTrends.com.
---
Content continues below advertisement