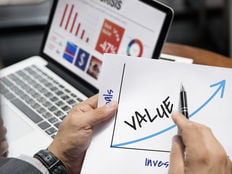 Relative Value Investing Channel
Value stocks, which typically have low multiples and stable fundamentals, significantly outperformed their growth counterparts recently, and a J.P. Morgan expert says the trend could continue into October, especially if the planned U.S.-Chinese trade discussions go well.
The iShares Edge MSCI USA Value Factor ETF (VLUE B+) climbed 1.8% on Monday while the iShares Edge MSCI USA Momentum Factor ETF (MTUM B+) slumped 1.7%. Data compiled by Bespoke Investment Group displayed this was momentum's worst daily performance relative to value since its inception in early 2013.
Marko Kolanovic, global head of the macro quantitative and derivatives strategy team at J.P. Morgan, said his opinion is based on how he observes investor positioning, the current lack of performance of value names, and the loosening of technical flows last month in equities and bonds, which catalyzed a drop in yields, which hit extreme lows.
"Given that the S&P 500 is heavy in bond proxies and secular growth, we would expect higher upside potential in small caps, cyclicals, value, and Emerging Market stocks than the broad S&P 500," Kolanovic noted.
In July Kolanovic wrote, "We think that the unprecedented divergence between various market segments offers a once in a decade opportunity to position for convergence."
Kolanovic says there is now another hawkish divergence occurring, beginning last Friday with the record performance gap between large-cap companies and small-cap names. The strategist notes that his small-cap momentum indicator, based on a weighted one-, three-, six- and 12-month price momentum, reached its maximum negative reading, while simultaneously, the momentum signal for the S&P 500 was at its maximum positive reading. The only other time this occurred was in February, 1999, he added.
"Many similar indicators suggest the gap is not sustainable between value, cyclicals, SMid and high beta stocks on one side, and momentum, low volatility, and growth on the other side," he wrote.
The JP Morgan quant experts believes that there could be a boost in manufacturing levels as long as trade talks go well.
"While manufacturing lags both, we see that in the coming months one could expect manufacturing activity to pick up given the increased monetary stimulus, providing support for the market and value stocks. We think October negotiations will be the key for future performance of equity markets and more broadly the global economy," the strategist wrote.
For investors looking for pure value plays, well-known value ETFs like the iShares Russell 1000 Value ETF (IWD A-), iShares MSCI USA Value Factor ETF (VLUE B+), Vanguard Value Index Fund ETF Shares (VTV A) and the Vanguard Small-Cap Value ETF (VBR A+) could be good choices to consider.
For investors who feel value is a long-term play, look to the Direxion Russell 1000 Value Over Growth ETF (RWVG B+). RWVG seeks investment results that track the Russell 1000® Value/Growth 150/50 Net Spread Index (the "index"). The fund, under normal circumstances, invests at least 80% of its net assets (plus borrowing for investment purposes) in securities that comprise the Long Component of the index or shares of exchange-traded funds ("ETFs") on the Long Component of the index.
RWVG's index measures the performance of a portfolio that has 150% long exposure to the Russell 1000® Value Index (the "Long Component") and 50% short exposure to the Russell 1000® Growth Index (the "Short Component").
This article originally appeared on ETFTrends.com