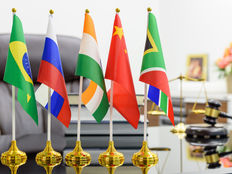 Relative Value Investing Channel
The U.S.-China trade war continued to be a thorn in the side for emerging markets (EM) in 2019. After getting off to a strong start, the tariff-for-tariff battle between the two largest economies is weighing on EM and more weakness could be ahead—an opportunity for Direxion MSCI Developed Over Emerging Markets ETF (RWDE C+).
For the most part, weakness in Chinese data was putting downward pressure on EM to start the trading week. Last week's announcement by the White House was that it was considering restrictions on further U.S. investments in China and delisting Chinese equities put EM on a downward slide.
Per a Reuters report, "China's equities benchmark and blue-chip index closed down about 1% after reports the Trump administration was considering delisting Chinese companies from U.S. stock exchanges in what could be a radical escalation in their prolonged trade dispute."
Often times, the performance of EM currencies will be tied to their overall performance in equities. EM analysts posit that third-quarter performance for currencies will not improve in the final quarter of 2019.
"Given that we do not anticipate a major breakthrough in the U.S.-China trade conflict and investors will have to navigate through idiosyncratic risks across the EM space, we are skeptical that Q4 will be markedly better for the EM currencies than Q3," Rabobank analysts wrote in a client note.
"Amongst the worst performers are high yielders (BRL, ZAR) supporting our view that the revival of carry trade is unlikely – despite the Fed cutting rates – as long as trade uncertainty exists."
With trade deal negotiations set for the second week of October, it sets up an interesting opportunity to trade developed markets over EM via a single relative value ETF.
RWDE provides a means to not only see developed markets perform well, but a way to access a convergence/catch-up in performance of DM relative to EM, a spread that has clearly widened over the past 6 months. The fund seeks investment results, before fees and expenses, that track the MSCI EAFE IMI – Emerging Markets IMI 150/50 Return Spread Index.
The index measures the performance of a portfolio that has 150% long exposure to the MSCI EAFE IMI Index (the "Long Component") and 50% short exposure to the MSCI Emerging Markets IMI Index (the "Short Component").On a monthly basis, the Index will rebalance such that the weight of the Long Component is equal to 150% and the weight of the Short Component is equal to 50% of the Index value. In tracking the Index, the Fund seeks to provide a vehicle for investors looking to efficiently express a developed over emerging investment view by overweighting exposure to the Long Component and shorting exposure to the Short Component.
This article originally appeared on ETFTrends.com
---
Content continues below advertisement