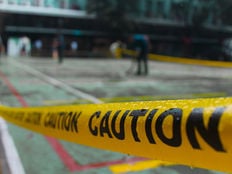 Relative Value Investing Channel
There are plenty of factors currently speaking to why ETF investors are cautiously optimistic.
In the latest episode of "Bloomberg ETF IQ," host Eric Balchunas discusses the tug of war between bulls and bears. He brings up the Vanguard International Bond EFT (BNDX A-), which has shown some aggressiveness in the fixed income department.
However, there's more sentiment for low volatility ETFs, quality, and gold, which shows a level of investors being cautiously optimistic. Part of that has to do with small-caps being down, along with bullishness on the part of short-term debt.
Looking back at the third quarter, there are some things to glean from the fixed income versus equity race that's held the interest of many. With fixed income, the first quarter was strong, the second quarter was strong, and while it still had a lead over equity in the third, equity seemed to be climbing, and chipping away at it.
Seeing as fixed income went from a $60-70 billion lead to $40 billion, it means good news in the form of trading crowd reactions could lead to a photo finish between the two by the end of next quarter.
Effects On Emerging Markets
Shifting gears to how the White House plans to limit flows into China and the impact that has on emerging market ETFs, Bloomberg's Carolina Wilson puts forward what is at stake. As it stands, there is around $500 billion in EM ETFs and mutual funds that are US listed. With 20% exposure of those strategies to Chinese stocks, that means $100 billion in Chinese stock exposure in various US vehicles.
As Wilson explains, this sort of scenario allows ETFs that represent single countries a chance to shine, as they step in as price proxies. Prices could, in fact, change based on these recent developments, so it will be interesting to see where things fall.
The other major news to focus on is the move made by Charles Schwab (SCHW) to eliminate commissions of equity and ETF trading. It may have been a long time coming, and it has so far led to many of the online brokerages taking a hit.
Additionally, *E*Trade (ETFC)* already made a move to end commissions, as well. This shows the clear impact the fee war has had already, with a lot of intrigue as to where things go next.
Stadion Money Management's Will McGough is not quite sure what Fidelity's move will be, but they are indeed being pressured to contend with what has taken place. When a possible partnership is suggested, McGough understands there's a certain appeal, but must acknowledge how well commission works for Fidelity, even with apps such as Robinhood and acorn have an impact as well.
Related: Schwab Eliminates ETF, Stock, and Options Commissions
Having these areas in focus is good because it brings things back around to what kind of market investors are currently looking at as a whole, highlighting, again, why they can slowly push forward. Keeping this in mind, IndexIQ's Kelly Ye working on high-yield, low-volatility fund.
As Ye explains, investors are looking for tools to generate income while being able to manage the risk on the downside. With the product IndexIQ developed a couple of years ago, investors can ideally invest in the right kind of bonds. It's methods like these that spur on investors.
---
Content continues below advertisement
Watch This Bloomberg Video To Understand Investor Strategies