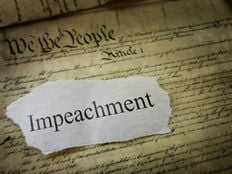 Relative Value Investing Channel
House Speaker Nancy Pelosi announced a formal impeachment inquiry into President Donald Trump on Tuesday, sending the markets down. While Trump is was incredulous that the former top Democrat on the House Intelligence Committee would go to such measures, markets seem surprisingly tepid today in the wake of the news.
"The actions of the Trump presidency revealed the dishonorable fact of the president's betrayal of his oath of office, betrayal of our national security, and betrayal of the integrity of our elections," Pelosi said yesterday. "Therefore, today I'm announcing the House of Representatives is moving forward with an official impeachment inquiry."
The S&P 500 closed down Tuesday 0.84% amidst the news, while the Dow Jones Industrial Average declined 0.53% and the Nasdaq was hit with a 1.46% decline.
However, markets seem shockingly stable today, with all three major indices up about 0.5% today, after a further decline in overnight trading. While this might seem surprising, financial institutions are reassuring clients today that the news is unlikely to affect their portfolios.
Investors shouldn't worry about what a formal impeachment inquiry into President Donald Trump could mean for his current term or even his reelection chances, Wall Street investment banks advised clients. However, what could be cause for concern according to Washington policy analysts said, is what effect an impeachment inquiry might have on a potential trade deal with China and an already agreed-upon deal with Canada and Mexico. In addition, any new legislation like a drug prescription policy could be put on hold or eliminated entirely they said.
"Legislating is dead. As we previously said, impeachment will lead to Congress doing nothing except that which it must do by established deadlines (like funding the government)," wrote Raymond James policy analysts Ed Mills and Chris Meekins.
"The idea of bipartisan action on drug pricing, infrastructure, and potentially the passage of the USMCA (the new NAFTA) are dead until after the 2020 election," Mills and Meekins continued.
President Trump's approach might be to focus more on little wins in the trade war according to the policy analysts.
"From a China trade perspective, the debate will be about a Trump pivot towards a win via a 'mini deal' or doubling down to cater to his base," Raymond James' Meekins and Mills wrote.
Investors who are cautious or believe the market is ready for a continued pullback or selloff can look into the Direxion Daily S&P 500 Bear 1X ETF (SPDN ), or into a safe haven ETF like (GLD A-).
Meanwhile, investors looking to take advantage of renewed strength in U.S. equities can look the Direxion FTSE Russell US Over International ETF (RWUI B), which offers them the ability to benefit not only from domestic U.S. markets potentially performing well but from their outperformance compared to international markets.
This article originally appeared on ETFTrends.com.