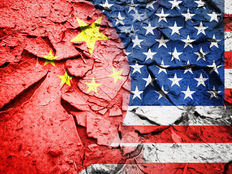 Relative Value Investing Channel
The U.S.-China trade war has for the most part been a bane to emerging markets (EM) since last summer, but with the Federal Reserve realizing the implications of a protracted tariff tussle, more rate cuts could be a boon to EM as well. How should investors play EM this time around?
"In the past, emerging markets looked to the Federal Reserve for cues about monetary policy. Increasingly, they're turning to the yield curve," wrote Shuli Ren of Bloomberg. "Chairman Jerome Powell must regain control of the narrative at Jackson Hole this weekend before his equivocation leads to deeper turmoil in developing economies."
Of course, then the capital markets turn to trade wars as a potential global economic disruption.
Thus far, market volatility due to U.S.-China trade wars has been a progenitor of suffering in the EM space. However, this sets up a trading opportunity for investors to capitalize on EM weakness and slide into DM strength.
The U.S.-China trade war is certainly injecting a dose of distaste for certain markets and one, in particular, is opportunities overseas like EM. As U.S.-China trade deal negotiations began to break down, emerging markets took a gutshot, but while they might be reeling, they could stage a late-round comeback.
---
Content continues below advertisement
2019 has thus far seen the reemergence of emerging markets, but while investors are sifting through the plethora of opportunities the EM space has to offer, investors can play to the strength of the EM space over developed markets. For investors looking for the continued upside in emerging market assets, whether driven by a weakening USD or continued developments around trade, the Direxion MSCI Emerging Over Developed Markets ETF (RWED ) offers them the ability to benefit not only from emerging markets potentially performing well, but from emerging markets outperforming developed markets.
Conversely, if investors believe that resolutions to the big issues impacting sentiment today are in motion, the Direxion MSCI Developed Over Emerging Markets ETF (RWDE C+) provides a means to not only see developed markets perform well, but a way to access a convergence/catch-up in performance of DM relative to EM, a spread that has clearly widened over the past 6 months.
This article originally appeared on ETFTrends.com.