Retirement Income Channel
In recent weeks, the S&P 500® Index has been trading in an extremely narrow range, reflecting a lack of clarity among stock investors. The limited range also indicates a divergent outlook between stock market bulls and bears and the split between the market and economy.
For example, stock market bulls reacted positively to the most recent inflation reading, which showed continued easing in consumer prices, and the latest statement from the Federal Reserve, which signaled a possible pause in interest rate hikes at the June FOMC meeting. Yet, among investors, worries about higher inflation and interest rates persist. A recent Nationwide Retirement Institute® found that rising living costs are by far the top financial concern of individual investors. And around three-quarters of those surveyed said they think inflation and interest rates will increase over the next 12 months.
An ambivalent market can often frustrate investors and lead to irrational investment decisions. We can shed some light on the murky picture by examining prevailing market themes. Additionally, this offers an opportunity to highlight the significance of investing for the long term rather than attempting to time the market.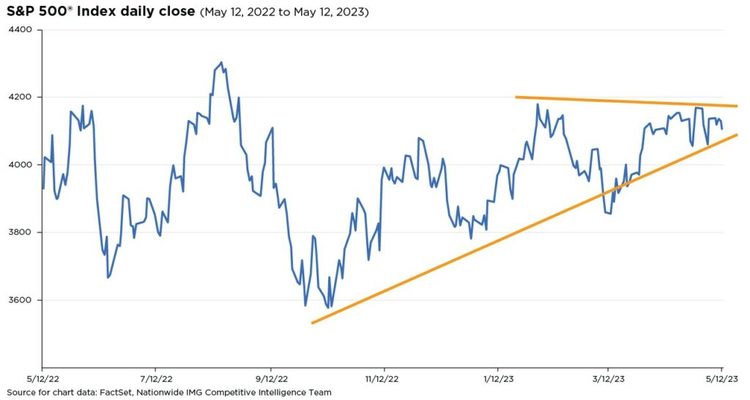 The bullish argument mainly argues that 1st Quarter earnings, guidance, and revision trends were much better than feared in past quarters. Moreover, the corporate buyback window is reopening, potentially creating a tailwind for the market in the short term. The bears contend that the Fed's messages of higher-for-longer interest rates and quantitative tightening to remove liquidity will weigh on economic activity. Narrow market breadth and leadership is another bearish concern, visible in the decline in the S&P 500 equal-weighted ratio to market-cap-weighted indexes. Additionally, as of this writing, just 48% of stocks in the S&P 500 are above their 200-day moving average.
These divergent views might explain why equity flows remain relatively tepid, and speculative futures positioning among institutional investors remains short. The S&P 500 rolling 12-month percentage price change is turning positive as a counterpoint to this negative sentiment. More time is necessary until the stock market finds a firm direction, so we expect the narrow trading range to continue for the near term. In the meantime, long-term investors who can maintain well-diversified portfolios—rather than reacting to fear and trying to time the market—can position themselves for future opportunities for growth.
By Mark Hackett
Originally published by Nationwide on May 18, 2023.
For more news, information, and analysis, visit our Retirement Income Channel.
Sources/Disclaimer
This material is not a recommendation to buy or sell a financial product or to adopt an investment strategy. Investors should discuss their specific situation with their financial professional.
Except where otherwise indicated, the views and opinions expressed are those of Nationwide as of the date noted, are subject to change at any time and may not come to pass.
Survey methodology: Nationwide partnered with Edelman Data & Intelligence to conduct a 15-minute online survey among a sample of 2,000 nationally representative adult consumers between March 30 and April 13, 2022. As a member in good standing with The Insights Association as well as ESOMAR Edelman Data and Intelligence conducts all research in accordance with local, national, and international laws as well as in line with all Market Research Standards and Guidelines.
S&P 500® Index: An unmanaged, market capitalization-weighted index of 500 stocks of leading large-cap U.S. companies in leading industries; gives a broad look at the U.S. equities market and those companies' stock price performance.
S&P Indexes are trademarks of Standard & Poor's and have been licensed for use by Nationwide Fund Advisors LLC. The Products are not sponsored, endorsed, sold or promoted by Standard & Poor's and Standard & Poor's does not make any representation regarding the advisability of investing in the Product.
Nationwide Funds are distributed by Nationwide Fund Distributors LLC, member FINRA, Columbus, Ohio. Nationwide Investment Services Corporation, member FINRA, Columbus, Ohio.
Nationwide, the Nationwide N and Eagle and Nationwide is on your side are service marks of Nationwide Mutual Insurance Company. © 2023 Nationwide
NFN-1463AO
---
Content continues below advertisement