Retirement Income Channel
Economic headwinds created by the coronavirus pandemic forced many investors planning for retirement to allocate resources elsewhere in 2020. Those looking to get back on track in 2021 have a valuable tool at their disposal: the Nationwide Risk-Managed Income ETF (NUSI).
NUSI can act as a complement to traditional equity and fixed income allocations or as the ideal protective hedge for investors with heavy exposure to technology and growth stocks because the fund is a "rules-based options trading strategy that seeks to produce high income using the Nasdaq-100 Index," according to Nationwide.
"2020 was a tough year for a lot of people. Millions of Americans lost their jobs. Others held their jobs but saw their income take a hit. Many people fell behind on retirement savings in 2020, neglecting their IRAs and 401(k)s to focus on near-term needs," reports the Daily Journal Online.
How the NUSI ETF Can Help
NUSI is an actively managed portfolio of stocks included in the Nasdaq-100 Index and an options collar. Per index rules, the fund only invests in the top 100 largest by market cap, nonfinancial stocks listed on NASDAQ.
---
Content continues below advertisement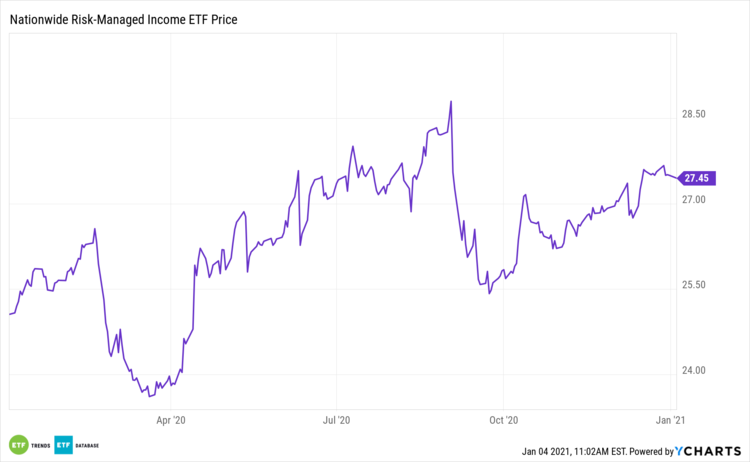 A collar strategy involves selling or writing call options and buying put options, thus generating income to hedge some downside risk. The strategy seeks to generate high current income monthly from any dividends received from the underlying stock and the option premiums retained.
A covered call refers to an options strategy where an investor writes or sells a call option on an asset which they already own or bought on a share-for-share basis to generate income via premiums derived from the sale of the call options. However, the covered call strategy caps upside potential and provides limited downside protection, so it is ideal for investors with a neutral-to-bullish outlook.
"More generous returns in your retirement plan can help make up for a year when you largely skipped contributions. If necessary, move some assets around now, while the stock market is still healthy and strong," adds the Daily Journal.
The Nationwide Risk-Managed Income ETF uses an options trading strategy called a protective net-credit collar to generate income. The options strategy sells an upside call option and uses a portion of the proceeds received to buy a put option to hedge downside risk on an underlying portfolio of securities.
For more on income strategies, visit our Retirement Income Channel.