Retirement Income Channel
The NASDAQ 100® Index is currently on a six-week run of gains, largely thanks to the performance of a few mega-cap technology stocks that rule the Nasdaq exchange. This Index, which tracks the performance of the top 100 stocks in the NASDAQ Composite Index, is off to one of its strongest starts since the 1990s, with a year-to-date return of around 33%. As of June 9, the NASDAQ 100 is approximately 13% away from its all-time high, last seen in November 2021. The allure and transformational potential of artificial intelligence (AI) has captured many investors' imagination, and they have, in turn, piled into large-cap tech shares. But it's not purely a momentum play; investors have shown an inclination toward well-established companies with solid balance sheets and reliable growth prospects.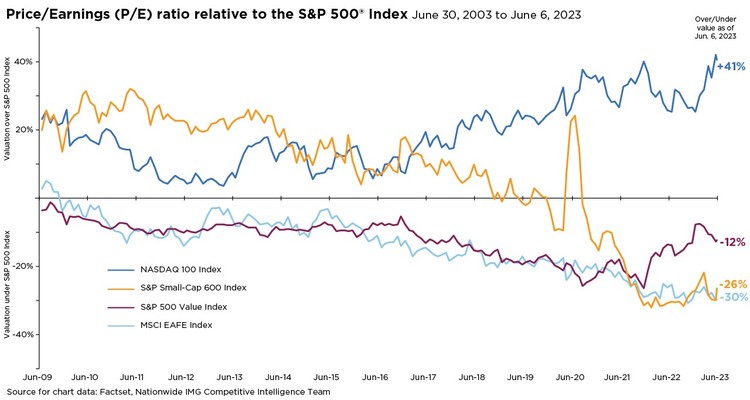 Clients participating in this year's tech-stock rally could benefit from a portfolio review and diversification check, as this appreciation may have thrown many allocations off balance. Investors may find opportunities at more reasonable valuations when comparing different asset classes across the market. For example, small caps have lagged the NASDAQ 100 this year, with the Russell 2000® Index of small-cap stocks down nearly 10% year. Over the past three months, the Russell 2000 has trailed the NASDAQ 100 by about 22% – one of the most significant gaps in performance outside of major disruptions like the COVID pandemic and the dot-com crash of 2000.
In the last few trading days, however, there's been some shift in this trend, with small caps outperforming the mega-cap tech-led NASDAQ 100 Index. This could be an interesting development, with the potential for improving market breadth and an opportunity for investors to gain from the catch-up trade. Investors reviewing their portfolio allocations may want to consider locking in gains from any appreciation in tech stocks and look for new opportunities in the more undervalued market segments such as small caps.
Originally published by Nationwide.
For more news, information, and analysis, visit our Retirement Income Channel.
Sources/Disclaimer
This material is not a recommendation to buy or sell a financial product or to adopt an investment strategy. Investors should discuss their specific situation with their financial professional.
Except where otherwise indicated, the views and opinions expressed are those of Nationwide as of the date noted, are subject to change at any time and may not come to pass.
Russell 2000® Index: An unmanaged index that measures the performance of the small-capitalization segment of the U.S. equity universe.
Russell Investment Group is the source and owner of the trademarks, service marks and copyrights related to the Russell Indexes. The Fund is not sponsored, endorsed, or promoted by Russell, and Russell bears no liability with respect to any such funds or securities or any index on which such funds or securities are based. Russell ® is a trademark of Russell Investment Group.
S&P 500® Index: An unmanaged, market capitalization-weighted index of 500 stocks of leading large-cap U.S. companies in leading industries; gives a broad look at the U.S. equities market and those companies' stock price performance.
S&P Indexes are trademarks of Standard & Poor's and have been licensed for use by Nationwide Fund Advisors LLC. The Products are not sponsored, endorsed, sold or promoted by Standard & Poor's and Standard & Poor's does not make any representation regarding the advisability of investing in the Product.
NASDAQ 100® Index: A rules-based, market capitalization-weighted index of the 100 largest, most actively traded U.S. companies listed on the NASDAQ stock exchange.
NASDAQ Composite Index: A stock market index of the common stocks and similar securities (e.g. ADRs, tracking stocks, limited partnership interests) listed on the NASDAQ stock market.
Nationwide Funds are distributed by Nationwide Fund Distributors LLC, member FINRA, Columbus, Ohio. Nationwide Investment Services Corporation, member FINRA, Columbus, Ohio.
Nationwide, the Nationwide N and Eagle and Nationwide is on your side are service marks of Nationwide Mutual Insurance Company. © 2023 Nationwide
NFN-1474AO