Retirement Income Channel
By Eric Henderson
As multiple recessionary signs flash red including bank failures, persistent inflation, and ongoing volatility, investors of all ages are increasingly nervous about the state of the markets and economy and what it means for their retirement plans and their ability to save for retirement. Our recent Advisor Authority survey, powered by the Nationwide Retirement Institute®, revealed that four in ten investors the U.S. is already in a financial crisis, and three in ten believe we are approaching one.
As a result, investor confidence is low; just 36% of investors feel confident in their ability to survive the next financial crisis. Ahead of a potential recession, financial professionals have an opportunity to help investors stay focused on their long-term goals and feel more optimistic about their ability to weather the storm.
Older generations are rethinking their retirement plans
Gen X and Baby Boomer investors have more experience with economic downturns which has conditioned them to proceed with caution. However, more than one-third of investors aged 77 and older feel the current U.S. economic environment is worse than in previous financial crises. Because of their proximity to retirement, many might not have time to make up for savings loss in a downturn while others could worry their larger nest eggs will be more vulnerable to market swings, prompting them to change or delay their retirement plans.
Even with more experience under their belts, fewer older investors have a strategy in place to protect themselves from outliving their retirement savings than in years prior — 62% and 60% of Gen X and Boomers have retirement strategies in place in 2023, down from 81% and 74% respectively in 2022. This presents an opportunity for financial professionals to help these older generations get back on track with their retirement plans. With clients nearing retirement, financial professionals should discuss their plans for lifetime healthcare costs, Social Security strategies, and options to reduce taxable income in their retirement years.
---
Content continues below advertisement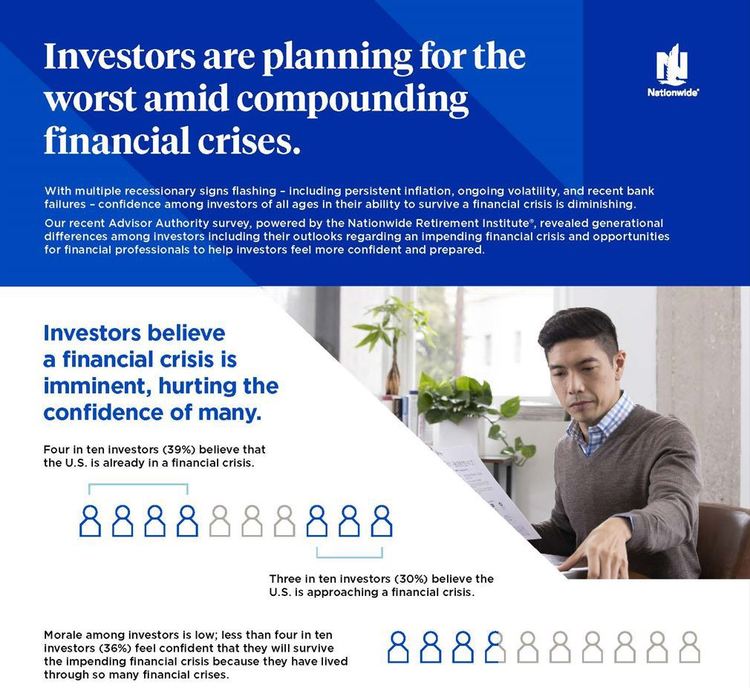 Younger generations are also concerned (with some optimism)
In line with the views of their older counterparts, Millennial and Gen Z investors are also preparing for a recession, with 43% and 26% (respectively) predicting a prolonged period of severe market downturn. Younger investors are increasingly turning to tried and true strategies as well as the help of financial professionals to ensure they don't outlive their retirement savings, especially since nearly half of Millennials and Gen Zs anticipate at least three more financial crises in their lifetime. You should talk to younger clients about how inflation can impact their retirement plans, encouraging them to stick to long term plan vs making emotional decisions during market volatility and negative returns.
Younger investors have grown up believing they must take ownership of their financial futures as they cannot count on pension plans. Of Millennials and Gen Z investors, those with strategies in place feel more optimistic about and prepared for retirement. One potential reason for this optimism is that young investors know they have more time to financially recover from significant downturns. And they're right – investors who keep their money invested over the long term, even during market volatility, are employing a strategy to outpace inflation.
Your opportunity to help investors feel confident
Across all generations, one thing is clear – having a plan helps, especially in times of economic uncertainty. A resounding 88% of investors of all ages feel more confident in their decision making by having a plan for their investments. As a trusted financial professional, you play a key role in fostering this investor confidence. By discussing strategies that protect client assets against market risk and highlighting the importance and value of staying invested throughout all market cycles, you can help your clients avoid making costly short-term decisions during times of uncertainty.
Both investors and financial professionals are concerned that market volatility will increase over the next 12 months. However, you are in a great position to help your clients stick to their long-term plans and not get caught up in the vicious news cycle, reinforcing that those who stick to their plans historically have stronger capital appreciation. You can encourage your clients to resist the urge to make emotional decisions or panic, maintain a diversified portfolio, consider historical market results, and take advantage of opportunities to buy low while others are selling in a falling market.
While a recession or financial crisis may or may not come to fruition, you can help guide your clients through whatever comes next, just as you've done in past turbulent moments. And with uncertainty on the horizon, sensational reports of market events yet to come will inherently tempt investors to react emotionally. It is important to remind your clients on the value of staying invested for the long-term, as emotional investing can often lead many to miss out on the best days in the market, significantly reducing their return on investment. For more resources, Nationwide has the insights and solutions that will help you have better conversations with your clients about their financial futures.
For more news, information, and analysis, visit our Retirement Income Channel.
Sources/Disclosure
Advisor Authority January 2023 Survey methodology: the research was conducted online within the U.S. by The Harris Poll on behalf of Nationwide from January 4-13, 2023, among 511 advisors and financial professionals and 789 investors ages 18+ with investable assets (IA) of $10K+. Advisors and financial professionals included 266 RIAs, 146 broker-dealers, 128 wirehouse, and 55 other financial professionals. Among the investors, there were 203 Mass Affluent (IA of $100K-$499K), 167 Emerging High Net Worth (IA of $500K-$999K), 106 High Net Worth (IA of $1M-$4.99M) and 104 Ultra High Net Worth (IA of $5M+), and 209 investors with $10K to less than $100K investable assets (less affluent). Investors included a subset of 224 "pre-retirees" age 55-65 who are not retired.
Investing involves market risk, including possible loss of principal. No investment strategy or program can guarantee a profit or avoid loss.
This information is general in nature and is not intended to be tax, legal, accounting or other professional advice.
The information provided is based on current laws, which are subject to change at any time, and has not been endorsed by any government agency.
Nationwide and its representatives do not give legal or tax advice. An attorney or tax advisor should be consulted for answers to specific questions.
Except where otherwise indicated, the views and opinions expressed are those of Nationwide as of the date noted, are subject to change at any time and may not come to pass.
NFM-22925AO