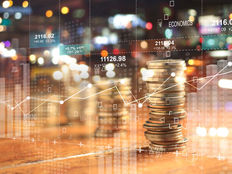 Retirement Income Channel
Back in December 2019, Nationwide launched a new ETF serving as an innovative income solution. The Nationwide Risk-Managed Income ETF (NUSI) relies on a variety of strategies to target high current income with less risk relative to traditional income-focused investments.
NUSI offers an innovative approach to traditional income investing by employing a dynamic, risk-managed, protective net-credit collar that seeks to provide investors with monthly income, a measure of downside protection, and potential upside participation.
While attending Inside ETFs, ETF Trends spoke to Marge Farquharson, Senior Director, ETFs from Nationwide, and Jonathan Molchan, Executive Director for Harvest Volatility Management about NUSI and what makes it unique.
As Farquharson explains, "If you look at our history over the past 93 years, we've developed an unparalleled reputation as a protection company that's committed to helping America prepare for and living in retirement. So, with this particular solution, we're especially excited because it serves as a meaningful addition to a pretty differentiated lineup of investment solutions that are geared towards managing the short and long-term risk and delivering the outcomes that are specific to retirement planning. In this case, income generation."
NUSI's 3-Step Strategy
To function correctly, NUSI deploys a three-step strategy. First, the fund purchases in full replication the constituents of the Nasdaq-100 Index. Then, the fund deploys a protective net-credit collar, which refers to an options strategy that combines a covered call and a protective put.
For the covered call component, a near-at-the-money to out-of-the-money Nasdaq-100 Index call option is sold, with the intent of generating options premium. For the protective put component, the fund uses a portion of the options premium received to purchase an out-of-the-money Nasdaq-100 Index put option, which seeks to hedge the portfolio below the current market price fully and to protect against potential losses in the equity portfolio.
Lastly, every month a managed distribution is paid to investors using a portion of the net-credit generated by the collar. If there is remaining options premium, then the fund seeks to reinvest in the underlying stocks to allow for potential equity participation.
Based on market price action, the fund managers can close out the short call option before options expiration. In a rising market, this "uncaps" the underlying equity portfolio allowing for the potential to participate if the market continues to rise. The call option can also be closed when it declines in value due to time decay or a falling market to capture and lock in gains.
Molchan adds, "What makes us different from other products in the market is that NUSI resets monthly, and we can close out the short call option or the covered call component, before expiration. This can be done for one of two reasons – to capture gains due to time decay or market sell-off. Or, to minimize upside losses and uncap the covered call component of the equities to potentially participate in further upside. So, the end goal is to provide income generation, capital preservation, and a higher risk-adjusted return than a passive strategy."
---
Content continues below advertisement
NUSI's Portfolio Prospects
When discussing where NUSI would fit in an investment portfolio, Molchan explains how the fund can be used as a core and as a satellite depending on how an investor needs to augment their portfolio. It can be used as a tool for enhancing the income-generating potential of a portfolio due to the covered call component. And because of the protective put component, it can also be used as a hedging tool to protect against and limit losses stemming from a potential downturn in the market.
Through the combination of income generation and downside protection, NUSI can benefit investors as an innovative core solution that can complement a traditional 60/40 allocation as it provides equity exposure with less volatility and a market hedge as well as monthly income without onboarding many of the risks associated to bonds and alternative income investments such as interest rate sensitivity, duration, credit, leverage, and commodity exposure.
Shifting over to how NUSI is expected to perform across different market environments, Molchan states, "NUSI follows a systematic, rules-based system which allows us to close the short-call option prior to expiration. This, in effect, 'uncaps' the portfolio by enabling the underlying equity portfolio to potentially participate in a rising market. So, in a rising stock market, total return will likely come from capital appreciation of the underlying stock portfolio. The covered call component used as a part of the net-credit collar strategy may limit some of the upside growth potentials but will still support the monthly dividend."
For more information about the NUSI ETF, visit its fund overview page.
This article originally appeared on ETFTrends.com.