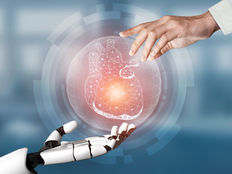 Richard Bernstein Advisors Channel
Through the first half of 2023, it is clear that broader equity market gains have propelled investors' enthusiasm for stocks with ties to artificial intelligence (AI). As such, a small number of large- and mega-cap equities account for an outsize percentage of broader benchmarks' 2023 upside.
Still, macro investing factors, such as asset class, country, region, and sector, retain importance. In a recent Barron's Live podcast appearance, Dan Suzuki, deputy chief investment officer at Richard Bernstein Advisors, discussed the benefits of macro/tactical investing as well as the current state of market affairs, which is essentially pitting AI and tech against the rest of the market.
As exchange traded funds have become increasingly popular among asset allocators, market participants have framed active and passive investing as a debate. Bernstein splits the difference taking a "pactive" approach: an active approach to managing positions in passive ETFs.
"The thing that people that don't realize is that even if you want to be passive, there's always a very active decision being made in portfolios," said Suzuki in the interview.
ETFs Ideal for Macro Views, Says Suzuki
As noted above, AI is captivating market participants this year, prompting significant outperformance by large- and mega-cap growth stocks. Conversely, some have concerns about elevated valuations on those names. They wonder if and when smaller equities will do their part to drive the broader market higher.
While investors' enthusiasm for AI and tech-related ETFs is palpable this year, Bernstein's Suzuki reminded market participants that ETFs are useful for much more than expressing thematic views. In fact, he suggested that ETFs are the ideal vehicles for macro investing.
"It's the perfect vehicle for us to express macro views because ETFs are less focused on individual stock alpha," added Suzuki.
He pointed out that ETFs are useful for regional, sector, and style exposures, among other positive attributes. Those are pertinent traits. Some prescient advisors and market participants are evaluating opportunities beyond the realm of AI and mega-cap tech.
Investors can efficiently embrace Bernstein's methodology with the (IRBA ). True to the firm's macro DNA, IRBA is an actively managed ETF containing five passive ETFs. Those ETFs represent domestic and foreign stocks as well as US and ex-US bonds.
For more news, information, and analysis, visit the Richard Bernstein Advisors Channel.
---
Content continues below advertisement