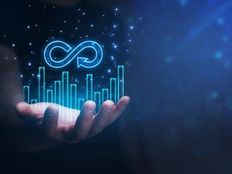 Richard Bernstein Advisors Channel
Looking for something different in ETF world? It may be worth taking a look at the investment approach over at Richard Bernstein Advisors (RBA). The investment committee at RBA focuses on corporate profit cycles rather than economic cycles, allocating assets according to profit upswings and downturns. This process is available in an ESG asset allocation ETF from iMGP, subadvised by RBA, called the .
Rather than focus on individual security selection, RBA's  research is around fundamentals of the market, with a particular emphasis on three factors: periods of accelerating and decelerating profits growth, liquidity, and sentiment. Such an approach favors market segments like defensives and secure yields in falling profit cycles, while preferring small caps and cyclical sectors in rising profit periods.
So why might now be a good time to watch an ESG asset allocation ETF like IRBA? Earnings season is about to rev up again, for one. Markets are about to receive a lot of data from all kinds of firms that won't just have bearing on the Fed's rate hike plans — it will also provide useful data for IRBA's profit cycle-focused approach. For example, RBA's portfolios are already overweight to the defensive sectors that outperform during profit cycle downturns.
Notably, the strategy is also open to investing around the world — which may be important, as U.S. stocks are overweight a beleaguered tech sector right now, with sector exposures in some foreign economies much more defensive.
IRBA actively invests in other ETFs, "X-raying" the funds in which it invests to be sure they hold the appropriate securities that reflect the investment committee's profit cycle approach. The strategy has outperformed its ETF Database Category Average and FactSet Segment Average over the last three months, returning 11.6% compared to 7.9% and 4.7% respectively.
Charging 69 basis points, the strategy also requires that its 5–30 underlying ETFs incorporate ESG factors. Over the long term, IRBA expects to target an allocation of 65% to equities and 35% to fixed income, though there is no requirement for it to be managed within that range.
While most stocks out there stick to the traditional, bottom-up approach of individual security selection, RBA's strategy instead embraces a top-down, fundamentals-driven approach. IRBA is a one-stop-shop for ESG investors who have many funds to choose from and decide between. For investors looking to embrace profits as a key indicator of the broader market with an ESG screen, IRBA may be one strategy to watch in the weeks ahead.
For more news, information, and analysis, visit the Richard Bernstein Advisors Channel.